We all love cooking on an air fryer due to its practicality and ease of use.
But, what happens when we do not clean it after use. The oil release from the food gradually builds up and eventually forms a greasy texture. 
This baked on grease if not cleaned for a long time, it will start smelling and when we cook food on it, the outcome will become very bad.
So, how to prevent such things?  
The best way to prevent the air fryer from greasing and smelling is to clean it just after cooking. 
You will not find any problem if you clean and dry it properly on a regular basis just after use. It will keep your air fryer both safe and hygienic.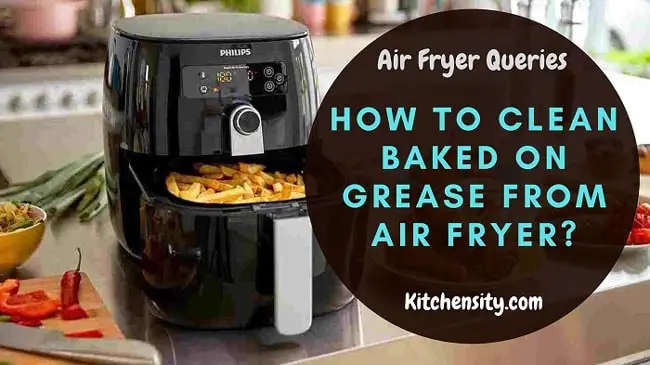 Now you are here, which means your fryer has already baked-on grease. Don't worry, I will help you out with the cleaning. With a little effort, you can clean the grease with the items that are easily available in your home.
So, let's see…
How To Clean Baked On Grease From Air Fryer… The Proper Way!
Cleaning baked on grease from an air fryer is not that hard, it only requires your patience. Because to clean it, I am sure you have all the materials available in your home. 
So, without any delay let's start…
What will you need?
Baking Soda
Apple Cider Vinegar (The regular vinegar will work fine but with some addition of water because it is too acidic)
Toothbrush
Dish Washing Liquid
Soft Sponge
Hot Water
Make sure to switch off and plug out the appliance before cleaning. Also, take out the basket and separate the mesh to clean it properly.
Directions for Cleaning an Air Fryer:
First, make a paste of baking soda and water. Take 2 teaspoons of baking soda and about 1-2 teaspoons of water and mix it well. Basically, you have to make a thick paste.
After that, apply that thick paste to the basket and the mesh properly with the help of a toothbrush. Rub the baked on grease area properly and also don't forget to cover each and every section of the basket.
Then pour 1 cup of apple cider vinegar into the basket or if you are taking regular vinegar then mix 1 cup of vinegar with a half cup of water and then pout it. Let it sit for 15 minutes.
After 15 minutes, pour hot water into the basket and let it rest for a few hours. It will be great if you keep it for the whole night or if not then keep it for at least 5-6 hours. Because it needs time for the mixture to react with the particles.
In the next day or after 5-6 hours, clean the basket and the compartment with the help of dish soap and a sponge. You will be amazed to see that all your baked on grease will be gone and finally, rinse with clean water, and you are done.
It definitely takes time but your effort does not get wasted. As I have already mentioned above that it is easy to clean but it needs patience. The air fryer will look completely new after this process.
Note: Don't use metal utensils or any hard scrubber as it will damage the non stick coating instead you can use any damp cloth or sponge to wipe.
Now, you have cleaned the basket and the nonstick compartment but what about the exterior and air crisp lid of the air fryer. How to clean that??
If you want comment below and I will cover it in the next article or may update here.