All-Clad is one of the popular and trusted brands in the world. They make excellent pots and pans that are a little expensive but last for decades.
So among these pots and pans, today we will review the All-Clad 4110 NS R2 Non-Stick Fry Pan.
We will discuss all the features, pros, and cons of this product and also we will compare this fry pan with similar products in the range. 
Finally, we will give you our verdict and let you decide, whether you want to add this nonstick fry pan to your kitchen or not.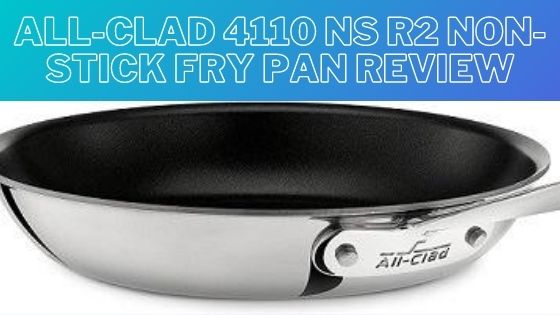 Without any delay let's start reviewing:
We review a product by considering various practical factors like size, weight, material quality, affordability, warranty, etc, and then compare it with other items.
This way we get a clear review and vision to add the product in our kitchen.
Let start with the first factor.
Size And Weight
There are four sizes available, from 8 inches to 12 inches and their weight varies from 2 pounds to 4 pounds.
So, to get a better understanding, check the chart below:
| Product | Size | Weight |
| --- | --- | --- |
| | 8 inches | 2 pounds |
| All-Clad 4110 NS R2 Non-Stick Fry Pan | 10 inches | 3.2 pounds |
| | 12 inches | 4 pounds |
| | 14 inches | 4 pounds |
Size and Weight Table
From this data, we can conclude that the 10-inch size will be perfect for most families. This size pan is ideal for 2 to 4 people and the weight is also decent.
But, if you are a party person or have more than 5 people then the 12-inch will be perfect for you.
Now, let's go for the next topic.
You May Also Like: What To Look For When Buying Non-Stick Cookware?
Material And Build Quality
It is the most important factor as the pan's durability and strength are totally depends on its build quality.
What material is used by the brand to make the product is very important? Due to this factor, the overall cooking experience and durability is dependent.
The All-Clad 4110 NS R2 Non-Stick Fry Pan is made of very high-quality stainless steel which is bonded with aluminum for superior heat retention and then coated with a high-quality non-stick surface. 
Usually, it is a 3-ply bonded construction that increases the strength of the pan and ensures durability.
The nonstick coating bonded here is PFOA free and so smooth that it makes the cooking and cleaning experience very effortless. Very less amount of oil is needed for cooking due to its smooth nonstick surface.
The handle of the pan is ergonomically designed, longer, and is secured by stainless steel rivets. Due to this, the handle feels much more secured and comfortable.
The All-Clad 4110 NS R2 Non-Stick Fry Pan is oven-safe up to 500 degrees Fahrenheit, dishwasher safe, and is compatible with all cooktops including induction.
Thus, we have seen that the build quality and structure of the pan are awesome and also it has all the required features. So up to here, the pan is all good.
Let's go for the next topic.
You May Also Like: Best Non-Stick Cookware Brands
Affordability
We have seen the pan's size, weight, and build quality but the main decision for buying the product is always depends on the price.
If the product is too expensive then a second thought comes to our mind whether to purchase it or not.
We all know that All-clad is not a cheap brand. They make excellent products and have great brand value.
But don't panic, this pan is not that expensive. They have given a very competitive price for this product.
We can't give you the exact price of the product because Amazon always changes its prices, so to check the exact price you can click here.
Ideally, the range of the 10-inch pan is between 120$ to 150$. If you consider all its features, build quality, and brand value then this price is worth it.
If we talk about affordability, then we cannot consider it as affordable rather we can consider it as an investment.
Now, let's check the warranty.
Warranty
The best thing about this All-Clad Non-Stick Pan is that it comes with a limited lifetime warranty. Also, the product is made in the USA.
So, if you have any warranty issues then you can always contact them to solve the matter.
Let's check the pros and cons.
Pros
Even heat distribution.
Comfortable, long, and secured handle.
Oven safe up to 500 degrees Fahrenheit.
3-Ply bonded construction.
Easy to clean.
Compatible with all cooktops including induction.
Cons
Not affordable.
Lid not provided.
We have checked all the features, quality, pros, and cons, now let's compare with other products.
Comparison
We have searched for competitors in different places but we couldn't find many.
We have got only one competitor "Cuisinart" for this segment (Stainless steel pan bonded with nonstick coating).
So, we will compare our product with this Cuisinart MCP22-30HNSN MultiClad Pro Nonstick Stainless Steel Pan.
Let's start the comparison.
Size and Weight
In terms of size, both are equal but in weight, there is a huge difference. From this, we can see that the materials used in All-Clad are better than Cuisinart.
Now let us compare the material.
Material and Build Quality
| | | | | |
| --- | --- | --- | --- | --- |
| Products | 3-Ply | Long Handles | Toxic | Evenly Heated / Oven Safe |
| All-Clad 4110 NS R2 Non-Stick Fry Pan | Yes | Yes | NA | Yes |
| Cuisinart MCP22-30HNSN MultiClad Pro Nonstick Stainless Steel | NA, it is multi-clad | Yes | NA | Yes |
Thus, we have seen that there are a lot of similarities. But one thing differs in the construction, the Cuisinart has a (multi-clad) polished stainless steel whereas in All-clad has 3-Ply bonding construction.
Both the construction is good but the 3-Ply technology is more rigid and long-lasting. That's why they differ in weight so much.
Now the last comparison is the price.
Price
If we compare the price then Cuisinart is cheaper then All-Clad but if we consider all the features and quality then cleary All-Clad is the winner here.
Note: The price may be lower, higher, or in between the range when you check on Amazon. This happens because Amazon changes its price quite frequently or may be due to certain offers.
If you purchase the item in an offer then you may get a good discount.
You May Also Like: Best Nonstick Pans for Gas Stoves
Final Verdict
A nonstick frypan is a handy tool in our kitchen because of its quick operations. So, a pan should be smooth, comfortable, evenly heat, and long-lasting.
If any pan has all of these features then that is a good product for the kitchen. Now this product All-Clad 4110 NS R2 Non-Stick Fry Pan has all these features and therefore, it may be a good addition to your kitchen.
If you find this item a little expensive then you can go for the next option, i.e., the Cuisinart MCP22-30HNSN Multi-Clad Pro Nonstick Stainless Steel. This pan is equally a good option for your kitchen.
So, if find this article helpful then please share it with your friends and family. Also, don't forget to leave your experience below. Thank You !!!