Are you looking for the best non-stick cookware brands?
No worry, we have done all the hard work for you to find out the best brand in the market.
Non-stick cookware is a very essential product for the kitchen. At Least every kitchen needs one non-stick cookware set, if not then at least a non-stick pan.
This cookware is preferred by many cooks as it needs less oil or sometimes no oil at all due to its less-sticky property.
This type of cookware can be used to make anything from frying eggs to cooking veggies.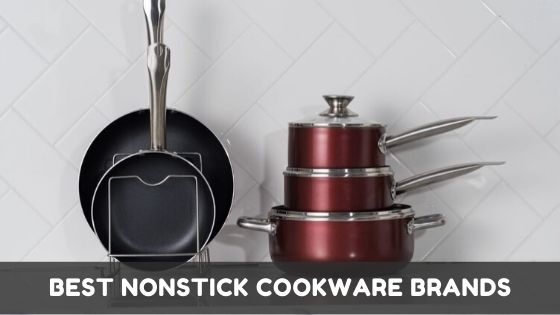 There are many options available at different prices, but we are here to give you the best non-stick cookware brand.
So, here is the article on:
Best Non-Stick Cookware Brands For 2020
We have selected some of the best non-stick cookware brands on the market and also listed out the most popular products of them.
So, here are the products:
1. All Clad
Whenever we think of any non-stick cookware set, the first brand that comes to our mind is All-Clad. Because All-Clad is a very popular brand not only in the US but also in the whole world.
Their cookware is handcrafted with American made steel in Canonsburg, Pennsylvania. They are constantly evolving and innovating new ideas to improve their cookware quality.
Every piece of cookware is hand-inspected during the manufacturing process. For over four decades they are maintaining their quality standards.
For all this reason, All-Clad cookware is loved by the world's top chefs and passionate home cooks.
From this brand we have selected this cookware 
All-Clad Ha1 Hard Anodized Non-Stick Cookware Set
This is a hard-anodized non-stick cookware set that is best suited for frying, sizzling, browning, cooking veggies, meat and much more. You can fry anything from meats to eggs.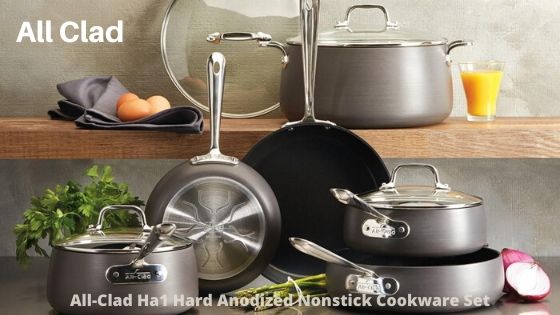 The non-stick coating of the pan allows you to toss foods efficiently and turn anything with a spatula with ease. 
The All-Clad non-stick cookware is an HA1 hard anodized cookware where the heat is evenly distributed and with its three layers of PFOA non-stick coating ensures easy cooking and cleaning.
2. Calphalon
Calphalon is another US company that built excellent cookware. Their mission is to be the expert in kitchenware and enhancing the experience of home cooking.
It offers superior quality of the products, increases durability and also cooking performance.
Calphalon is a premium cookware brand, according to their quality but not the price. This cookware features a multi-layer non-stick for extra durability, smoothness and enhancing performance. Their cookware is non-sticky so every chef loves it.
From this brand we have selected this cookware
Calphalon Classic Pots And Pans Non-Stick Cookware Set
This item is also a hard anodized non-stick cookware which offers great quality and durability.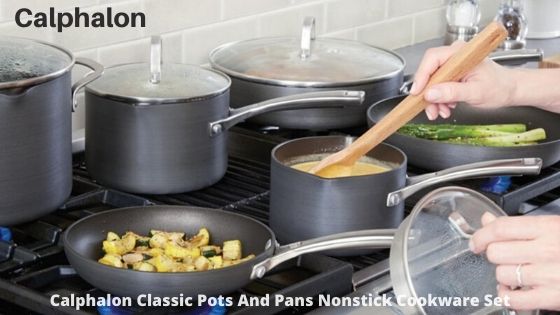 The cookware includes all the essential items and it helps you save time in the kitchen while preparing your favorite dishes. You can use it for searing, boiling, frying, simmering and much more.
Due to its generous size, you can cook food for your whole family with ease. Here also you can cook anything from eggs to meats.
It has two layers of non-stick coating that is strong enough to resist any metallic spatulas or spoons or whisks. Here the food does not get stuck and you can easily clean it with a cloth or paper towel.
3. Green Pan
Greenpan is an dutch company that builds true ceramic non-stick cookware sets and pans.
They have a wide collection of healthy and non-toxic non-stick cookware. The cookware has 5th evolution of coatings that makes it more advanced in performance, durability, and resilience.
Greenpan cookware is stylish, scratch-resistant, durable, healthy and oven-safe handles.
To support all heat sources they have magneto induction technology which saves energy during induction cooking. Due to all these qualities, Greenpan non-stick cookware brand is liked by most of the home and expert chefs.
From this brand we have selected this cookware.
Green Pan Chatham Non-Stick Cookware Set
The GreenPan Chatham ceramic non-stick cookware set is a perfect fit for your kitchen. The cookware features flawless design and offers effortless cooking.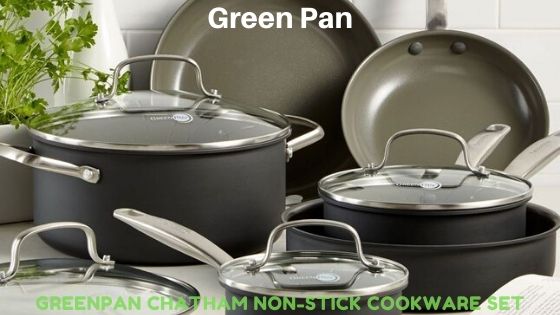 It has a superior non-stick coating that enables high performance, crispy frying results, superb searing and browning and excellent heat transfer.
The sets are constructed with hard anodized bodies for durability, maximum strength, and high scratch resistance.
Its interior is coated with Thermolon healthy ceramic non-stick for easy cleaning and less consumption of oil.
4. T-Fal
Tefal is a French cookware company that is one of the first manufacturers to produce PFOA free non-stick coatings. The pans of Tefal are safe and reliable as they are PFOA, Cadmium, and Lead-free. 
They are non-sticky as they need little to no oil and have Thermo-Spot technology. Thermo-Spot technology is a heat indicator which changes its aspect according to the temperature.
And with this technology, you can check whether the pan has reached its right temperature to ensure quality cooking. Some of its cookware has removable handles so that you can change whenever it is required.
Due to these qualities, the home and expert chefs loves it.
From this brand we have selected this cookware.
T-fal Ultimate Hard Anodized Non-Stick Cookware Set
The T-Fal Ultimate hard-anodized cookware is a complete workhouse that retains excellent heat and its super protective layer prevents corrosion and scratches.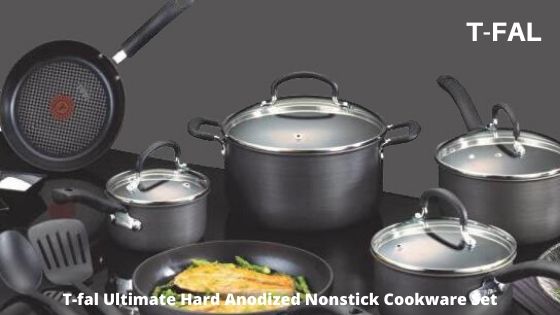 Its Thermo-Spot technology helps the cook to analyze the heat properly for delicious results. It is reinforced with hard titanium for durability and a toxin-free non-stick interior makes cooking healthy and easy.
The cookware is built with riveted silicone handles for comfort and vented lids to maintain visibility.
5. Cuisinart
Cuisinart is an American appliance company that later entered into the cookware industry. They build one of the best non-stick cookware out there.
Cuisinart builds the industry's first eco-friendly non-stick cookware which is manufactured using special techniques to reduce harmful carbon emissions by using less energy.
The company which is known for manufacturing the best food processors, today, is also known for its cookware.
From this brand we have selected this cookware.
Cuisinart Chef's Classic Non-Stick Hard Anodized Cookware Set
Cuisinart Chef's Classic non-stick hard anodized cookware has a flat base that provides even and quick heating to eliminate hotspots.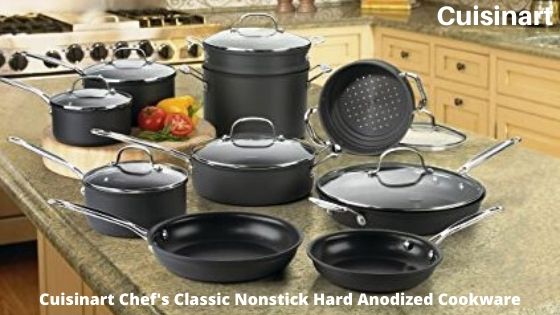 The cookware is reinforced with hard titanium and has Quantanium non-stick coating to ensure durability, easy cooking, and cleaning. This type of cookware is perfect for low-fat diets.
It includes all the essential pieces and is oven safe up to 500 degrees F. Cuisinart also includes tempered glass lids that are clear and break-resistant.
It has stainless steel riveted handles for comfort and they stay cool on the stovetop.
6. Rachael Ray
Rachael Ray is a famous chef who has created thousands of recipes during her culinary career. Later she founded a kitchenware brand by her name.
The non-stick cookware is hard anodized which are exceptionally durable with proper heat distribution. She has manufactured the products according to her convenience, so the quality is not compromised.
The non-stick cookware is dishwasher safe and has grippy handles. Also, the smooth surface is easy for cleanup.
From this brand we have selected this cookware.
Rachael Ray Brights Hard-Anodized Non-Stick Cookware Pots and Pans Set
Rachael Ray Brights Hard-Anodized non-stick Cookware is stylish, durable and coated with tough non-stick coating for swift and easy cooking.
The pot and pans are evenly heated and are oven and dishwasher safe. The cookware contains double riveted grippy handles for extra comfort and comes with shatter-free glass lids. It includes almost all the essential items.
Conclusion
The non-stick cookware is known for its style, non-sticky property and also for its health benefits. But, there are some things to look for when buying non-stick cookware for your home.
A good quality non-stick cookware is coated with a number of layers which prevents it from sticking the food without the use of oil and prevents it from getting scratch.
That's why all the cooks love to make their favorite dishes on the best non-stick cookware brands.