Are you searching for an unbiased Rachael Ray 10 piece Stainless Steel Cookware Set Reviews? Then you are in the right place.
We will discuss here why or why not choose Rachael Ray Stainless Steel cookware. 
Rachael Ray is a famous chef who has made thousands of recipes during her culinary career and later, she founded a kitchenware brand by her name, "Rachael Ray".
Her brand has a variety of pots and pans so that people can buy them according to their convenience.
So, Let's begin
Rachael Ray 10 piece Stainless Steel Cookware Set Reviews
Today we are reviewing Rachael Ray Create Delicious Stainless Steel Cookware Pots and Pans Set. The set looks amazing with its mirror-polished look and rubberized colorful handles.
The build quality, looks, and price of the cookware are so reasonable that you will love it.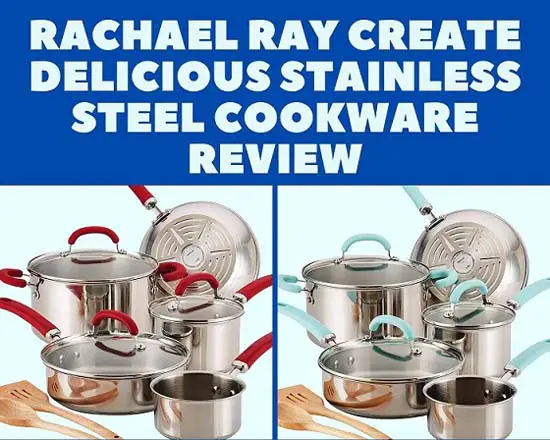 Construction
Here we will discuss the overall construction like build quality, stovetop compatibility, special feature etc.
Build Quality: The cookware is made of high quality durable stainless steel for extra strength and durability. It brings high performance with even heat distribution to reduce hot spots and make cooking easy.
High heat-conductive metals are cladded with non-reactive stainless steel exterior to transfer sufficient amounts of heat. As a whole, it makes the cookware look premium and durable.
Compatibility: Rachael Ray Create Delicious Stainless Steel Cookware is made with an induction-compatible base so that it can be compatible with Induction or any other stovetop.
Convenient Features: The cookware featured etched measurement markings for convenience and full function. It has also flared rims for fewer drips and easy pouring and makes your cooking experience very convenient.
The other convenient feature is that it is dishwasher safe and oven safe up to 400 degrees Fahrenheit.
Handles: The handles of Rachael Ray Create Delicious Stainless Steel Cookware Set are ergonomically designed with double-riveted stainless steel coated with silicone for extra comfort and to reduce heat. The handles can bear heat up to 400 degrees Fahrenheit during oven cooking.
Lids: It comes with shatterproof transparent glass lids which becomes very convenient during cooking to see the food without removing it. The lids are sealed properly so that it can retain the heat and moisture and makes your cooking process faster without losing the flavor.
But one thing to note that the lids lack steam vents. As vents allow steam to escape at a nominal rate and also, it prevents boil-overs. But not to worry, it is not an extremely important thing.
Dimensions and Weight: The stainless steel cookware set dimension is about 22.8 x 8.4 x 13 inches. This dimension is for the whole cookware set. The individual dimension for the pots and pans are discussed below.
The overall weight of the set is about 17.2 pounds and the individual weights of the pots and pans are medium. The pots and pans can be easily carried or lifted from one place to another.
The cookware has a medium thickness and can hold the heat properly. Thin pots and pans get quickly heated and can burn the food. On the contrary, too thick cookware's are very heavy and heated slowly.
What's Included
When we say cookware set, it should include all the essential items. And this set from Rachael Ray included all the essential items needed in your kitchen. The cookware includes:
1-Qt. Saucepan (1 no.).
2-Qt. Saucepan with Lid (1 no.).
3-Qt. Sauté Pan with Lid (1 no.).
6-Qt. Stockpot with Lid (1 no.).
10.25 Inches Deep Frying Pan (1 no.).
Solid Spoon (1 no.)
Slotted Turner (1 no.)
The frying pan does not come with a lid but the other lids provided easily fits. The 10.25 inches frying pan should prepare an adequate meal for a medium-size family. They are providing two saucepans with 1-Qt and 2-Qt capacity so that you can prepare your food accordingly.
The 3-Qt sauté pan is large enough to cook veggies or whatever for your lunch. And the large 6-Qt Stockpot is totally for a large family or if you have any small gathering you can definitely use it.
The best thing is that they are providing 3 lids and two wooden utensils for your convenience.
Overall I feel that the entire set would easily suit the needs of a small to a medium-size family of 3 to 5 people.
Color Availability
The overall color is the same but the silicone-coated handles are of two beautiful colors. One with beautiful red handles and the other with beautiful light blue.
Pros And Cons of the Cookware
Pros
High performing, radiant, and solution-oriented cookware.
Ergonomically designed colorful silicone-coated handles for better gripping and comfort.
Shatterproof transparent glass lids.
Good build quality, scratchproof and has a medium weight.
Even distribution of heat.
Easy to clean and dishwasher and oven safe.
Cons
The 1-Qt saucepan is only suitable for 1 or 2 people.
Food sticks sometimes. So, it is better to grease it before.
Price
Rachael Ray 10 piece Stainless Steel Cookware Set is a value for money product. Usually, stainless steel cookware sets are very expensive to buy. Not everyone has a huge budget to spend and that's why people are always looking for reasonable cookware sets and frying pans. 
That is why Rachael Ray has made this product reasonable and durable to convince people to buy it. I am not telling you that it is the best stainless steel cookware ever but considering its price point, it is the best out there. On Amazon, its price was less than 150 bucks when I checked last time.
Specifications At A Glance:
| | |
| --- | --- |
| Double Riveted Silicone Coated Handles | Yes |
| Dishwasher Safe | Yes |
| Oven Safe | Yes (Up to 400 degrees F) |
| Lids | Yes (Transparent glass) |
| Induction Compatible | Yes |
| Warranty | Lifetime |
Why to choose?
Rachael Ray has made this cookware exclusively for the class of people who can't afford the expensive one's or who are not willing to invest such an amount in cookware's.
You will get almost all the features of an expensive cookware set. Rachael Ray Create Delicious Stainless Steel cookware set is stylish, durable and most importantly, it's affordable. That's why we recommend you to choose this.
Why not to choose?
If you are a food lover and always try new recipes to cook which requires skills and efforts then you will need an excellent heat retention cookware.
For that, you need at least 5-Ply stainless steel cookware whose heat retention is excellent and you will love cooking in it. But, the main point is that they are very expensive. Other than that, you will also need non-stick, ceramic, cast iron cookware to full-fill your hobby.
That is why, considering the price it is the best stainless steel cookware set on the market.
Conclusion
I hope you have liked Rachael Ray 10 piece Stainless Steel Cookware Set Review. This is a versatile cookware that matches a wide range of delicious recipes.
It's a high performing, radiant and solution-oriented cookware that makes the cooking easy and convenient. Actually, we need cookware that is likely to last long because no one wants to change pots and pans now and then.
So, to deal with this Rachael Ray invested her time and money to design such an affordable and long-lasting cookware set to satisfy the customer's needs.