Waterless cookware is healthy cookware with stainless steel cooking surface that prepares food without the addition of any oil, fat, or even water.
It helps you to cook delicious and healthy food while saving your money, time, and also energy.
The food cooked with waterless cookware maintains all the vitamins, minerals, enzymes, and color. So, it looks colorful and delicious.
It is made with different metals like iron core to retain heat, aluminum, or copper base to distribute heat evenly, and the surface is coated with stainless steel to protect the food from any reaction. 
The water present on the food is converted into steam and creates pressure. That's why it can cook food faster, even with low heat.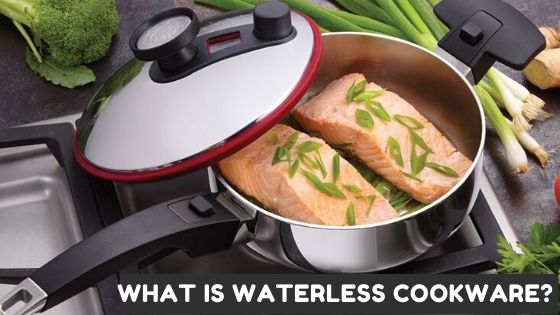 Who needs Waterless Cookware?
The people who want to eat healthy food and also wish good health then this cookware is for you. It doesn't mean that for a healthy body, anyhow, you need this cookware.
But this type of cookware can help you to achieve your healthy body goal faster. Also, if you want the vegetables don't lose the color or the vitamins, then a waterless pot and pan are definitely for you.
How does waterless cookware work?
The mechanism of waterless cookware is simple. It works by converting the water present on the food into steam, which then cooks the food.
The unique rim design forms a water seal between the pan and the cover, and the steam moves up to the lid and back down around the food, steaming it quickly with just a small amount of heat.
Usually, the waterless cookwares are built with durable metals for proper heat transfer and durability. The base is made with a conductive metal such as aluminum or copper for maximum heat retention, and the core is made with iron for even heat transfer.
The surface of the cookware is bonded with good quality stainless steel to protect the food from any reaction.
In waterless cookware, usually, food is filled to the top and have to close the lid. This is done because the more the amount of food, the more water to be released by the food; hence, it helps the cookware to produce steam, which creates pressure and cooks the food rapidly.
This item works almost like a pressure cooker as it creates pressure inside the cookware when the food starts producing steam, and this steam comes out through a small valve attached to its lid. This pressure helps to cook the food faster and saves energy and time.
How do you cook with waterless cookware?
Cooking food with waterless cookware is not rocket science. I think it is the most convenient and most comfortable way to cook food. Because you no need to fry or saute anything, just put the food inside it and wait for some time, it's done! 
But, if you want a full procedure to cook food with waterless cookware then, follow the steps below:
Here we have taken some chicken pieces and veggies for today's recipe.
Step 1: At first, you want to place the chicken pieces in a really hot skillet and sear each side for about five minutes until they're brown.
We don't need water or grease because the waterless cookware has an extra heavy multiplied plate across the bottom that spreads the heat rapidly and evenly.
Step 2: You will see the chicken sticks while it's browning, but don't worry about that it will turn easily after it is browned on both sides. Don't forget to sprinkle some salt or any other seasoning for taste.
Step 3: You can cook your vegetables in the same pan; simply place them on top of the chicken and cover it.
This is the secret to multiplying the cook where you have to close the steam control valve on the pans cover and also reduce the heat to low until it's finished cooking.
Step 4: There's no need to keep checking your food with this cookware, in fact, you don't want to lift the lid, or you let the moisture escape. 
Step 5: You know cooking food below the boiling point on low heat preserves vitamins and minerals, giving you more value for your grocery dollar.
So let's remember the food is not boiling, and it's not burning, so don't check on it. Your hands are free until the cooking time is up now and after simmering about 15 minutes, the chicken and vegetables are ready to eat.
Now, you can cook anything with this procedure, starting from potatoes or vegetables to chicken.
How do you clean waterless cookware?
Cleaning the waterless cookware is easy as some of the best waterless cookware is made of surgical stainless steel, which is non-porous, rust-proof, and easy to clean.
Usually, food doesn't stick in it or if it holds, then follow these steps:
Just use warm soapy water, soft cloth or foam, and rinse under a tap.
Apply some warm soapy water and place them in the dishwasher as they are dishwasher safe.
But I prefer hand washing as it keeps the cookware smooth and long-lasting. 
What is the best waterless cookware?
There are many pots and pans available on the market, but to find out the best one is the most tedious work. But no need to worry, we have done all the hard work for you to find out the best waterless cookware on the market.
We have searched every forum, online shopping sites, and even offline stores to find out the best one. Also, we have asked several home chef's and read reviews of genuine users.
After all these reviews and considering the price, we have found this Maxam 9-Element Waterless Cookware Set.
You May Also Like: Rachael Ray 10 piece Stainless Steel Cookware Set Reviews
Maxam 9-Element Waterless Cookware Set
This waterless cookware set is made with high-quality surgical steel and heat & cold resistant handles that make it stylish and durable.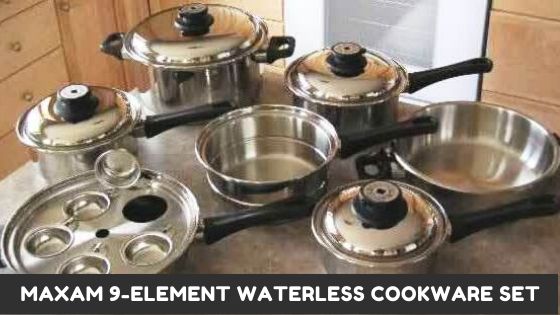 Its surgical steel is non-toxic and non-reactive. It resists the acids that are found in fruits, vegetables, meats, and milk. Maxam utilizes steam to make healthy food with no oil or fat.
Due to its 5-ply base, the heat is quickly and evenly distributed throughout the cookware. The Steam Control Valves control the temperature of the cookware and allows us to prepare the meal with a definite amount of heat.
Set Includes:
The Maxam 9-Element Waterless Cookware Set comes with 17 pieces of pots and pans. The set includes:
11 3/8″ inches Skillet with helper handle and Egg Rack 
7.5-Qt Roaster with Cover
3.2-Qt Double Boiler
2.5-Qt Saucepan with Cover
1.7-Qt Saucepan with Cover
A High Dome Cover for the Skillet or Roaster. 
Some of the feature of Maxam 9-Element Waterless Cookware Set:
Pros
Build with Surgical Grade Stainless Steel to prevent acid reactions and for shininess.
Its 5-ply base offers quick and even distribution of heat.
Steam Control Valves for controlling the adequate temperature for better results.
Featuring elegantly stylish refinement with satin-finished interior and mirror-finished exterior.
Resist the damaging effects of any detergents and covered with a limited lifetime warranty.
Dishwasher safe.
Cons
Not compatible with ovens.