A kitchen faucet is a very essential fixture in our kitchen due to its flexibility and convenience. Getting the right kitchen faucet offers great flexibility in washing and cleaning.
But this great fixture may create problems in the kitchen in due time. There may be water leakage, corrosion, low water pressure, poor installation, etc to name a few.
So, a time comes when we have to remove the kitchen faucet to fix the specific problems. But it becomes so much easy when you have a basin wrench.
But, what if we don't have a basin wrench? Is it extremely required to have it?
No, it's not always required to have one but if you own it then your work becomes a lot easier.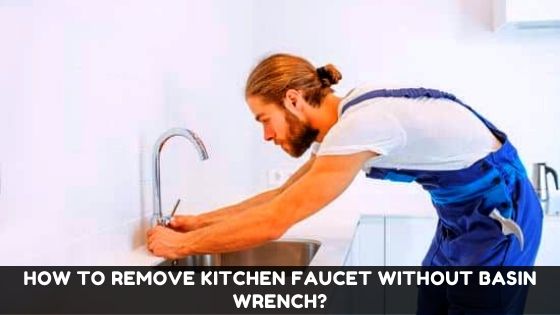 So, to remove kitchen faucet without basin wrench, you need some other wrenches and pliers to get the job done.
Let's start:
How To Remove Kitchen Faucet Without Basin Wrench?
Most people think that it is very complicated, tough, and tedious work to do but they are wrong. It is not a difficult task to complete, you need little patience and have to do it with calm. That's all, your kitchen faucet will be removed in no time.
What do you need?
As the most essential thing is basin wrench but here we will not use it, so you will these items:
Adjustable Wrench or Channel-lock Pliers.
Screw Driver.
Gauging Tape.
Towel or a cloth.
Penetrating Oil or Grease.
Putty Knife or Any flat plastic scraper (if needed).
Once you have arranged the items, now let's start.
First: Turn The Valves Off
Our first work is to turn off the valves. If you have two valves, hot and cold, turn off both. Because doing this will cut the water supply and your kitchen will not be flooded.
If you are not getting the valves, then these are just located below the sink. You can see the picture for reference, usually, most of the valves look like this. Also, place a medium-sized bucket below the sink, in case any unwanted water dripping, it will not create any mess.
You May Also Like: 6 Pull Out Spray Kitchen Faucet Problems
Removing the Faucet
Now your real journey begins:
Disconnect The Water Supply Lines
From this step, it takes little time depending on how old your faucet is. Take the adjustable wrench or channel-lock plier to disconnect the water supply lines.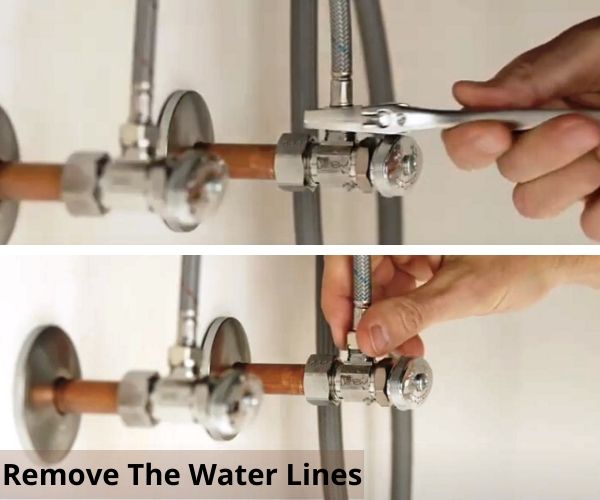 If you have two lines for hot and cold water, then disconnect both of them. Disconnecting water supply lines will ensure that there is no water pressure and you can remove the faucet much quickly.
Unscrew And Remove The Mounting Nuts
This process is a little irritating because water contains minerals and that are responsible for rusting the mounting nuts or may block the nuts depending on how old your faucet is. 
That's why spray some penetrating oil or apply some grease on the mounting nuts and wait for at least 15 minutes. This will smooth the process. In case you don't know mounting nuts, they are attached to secure the faucet to the sink.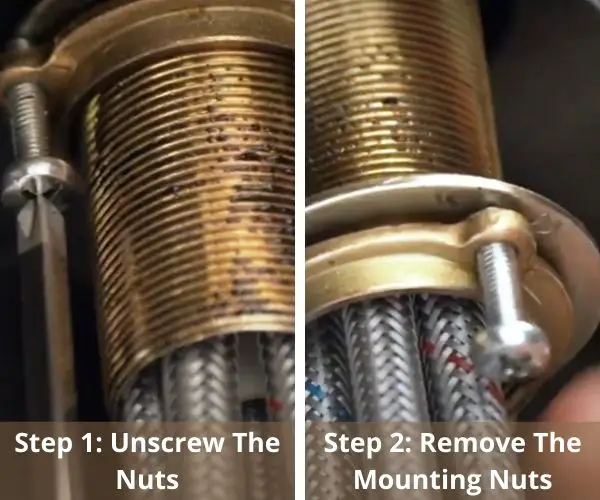 Now unscrew the nuts using a screwdriver, make sure to turn the nuts counterclockwise to remove them. Now you can easily remove the mounting nuts (this process is for a newer version of kitchen faucet).
You May Also Like: How to Unclog a Sink Clogged With Coffee Grounds?
For the older version of kitchen faucet (you can refer to the picture), you might need a basin wrench. Because it will help you to remove the mounting nuts faster.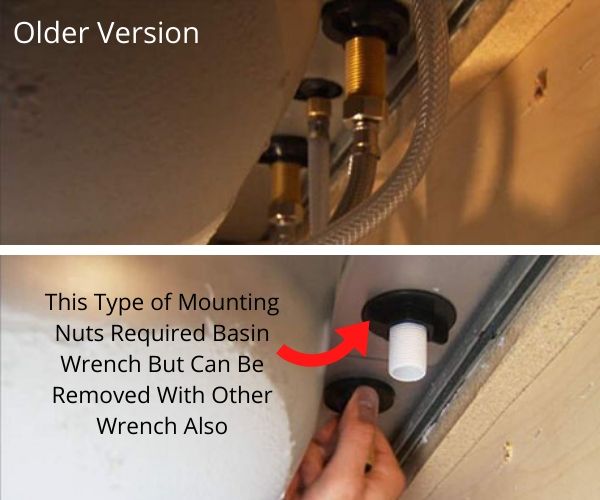 Although it is not necessarily needed, you can use any wrench or plier that fits the nuts and unscrew it. But in case you need it, then you can check one at amazon.
Finally, Remove the Faucet
You have turned off the valves, disconnected the water lines and removed the mounting nuts, now finally, its the time to remove the kitchen faucet.
Now, carefully lift the kitchen faucet from the sink and place it in a safe place. You can remove all the parts of the faucet and clean it nicely. After cleaning, you can again install the faucet to the sink and screw the mounting nuts, water lines, and on the valves.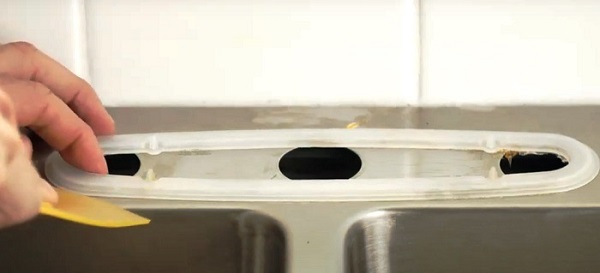 If it sticks while lifting, then use a plastic putty knife or any flat plastic scraper to gently work it loose without scratching the sink and clean the surface with a cloth.
That's it !!! Done.
If you want to know, how to remove kitchen faucet with basin wrench for older faucet then this video may help.
1. What can I use if I don't have a basin wrench?
You can use any multipurpose wrench to get your job done or you can use any pliers. The main thing is that the wrench should fits the nut and removes it.
2. How do you loosen a sink mounted nut?
I have already answered it before. To loosen it simply, spray some penetrating oil to the mounting nuts and wait for some time. Then unscrew with a screwdriver and remove it.
Conclusion
It's said that a basin wrench is a plumber's best friend, you can't survive without them. This simply doesn't mean that there is no alternative for it. Unless there's anything major issue you can always solve the problem yourself with the limited tools available.
Whatever I discuss here must help you to remove kitchen faucet without basin wrench. These methods are easy enough to inspire you to do the work yourself.
After you removed the faucet, you can clean and use the same sink or you can install a new faucet. It totally depends upon your choice. 
Now, it's your turn to apply the methods and share your experience with us. Please don't forget to leave your opinion.