Kitchen faucets are a very essential fixture in our kitchen. From washing dishes to vegetables, all we need is a functional kitchen faucet.
There are various faucets available in the market that comprises different functions. Among them, Moen is a highly popular brand in its category.
It is a brand that is liked by most of people for its quality and a broad selection of kitchen faucets that offer a wide collection of functionality.
Despite a good brand, it might get loose over time and may create problems in your kitchen. So today, we will cover some problems like how to tighten a loose Moen single-handle kitchen faucet and also to tighten its base.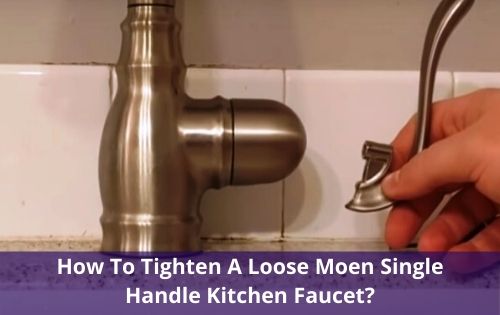 Let's start:
How To Tighten A Loose Moen Single Handle Kitchen Faucet?
After many uses, this type of problem may arise and it's normal. No need to get frustrated as it can be solved very easily within minutes without calling the plumber. This is totally a DIY task for which you can save a few extra bucks.
First, take out the plastic cap. Then, take an Allen wrench or hex wrench, put it inside the hole, and unscrew it in a counterclockwise direction. Now, pull off the cap to reveal the valve or the cartridge that is covered with a collar. Remove the collar and you will notice the valve is tightened with a brass ring.
Just try to tighten the brass ring with any tool that fits in or you can take any knife or pry tool in a clockwise direction. But don't tighten it too much, adjust it in the middle not very tight nor loose. 
Attach all the parts accordingly and you are done, that's it !!!
If you have not understood and want to learn more, then follow the step-by-step tutorial where I have shared all the processes in detail along with pictures and video.
You May Also Like: How To Remove Flow Restrictor From The Kitchen Faucet?
Let's Begin:
What Do You Need?
Allen Wrench Or Hex Wrench.
Screwdriver.
Adjustable Wrench or Pliers.
Step 1: Remove The Plastic Cap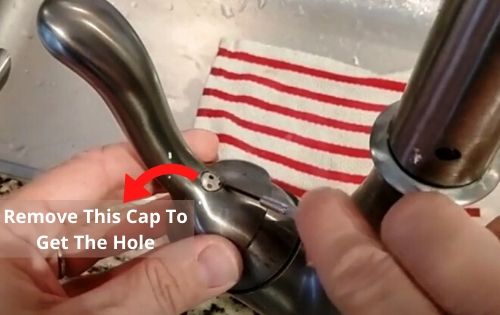 Your first and foremost job is to off the valves (both hot and cold water) so that there is no unwanted water and then remove the plastic cap or plug that is situated just below or above the faucet handle. You can remove it with any pry tool or screwdriver, just take the tool to pop that off.
Step 2: Remove The Handle And Collar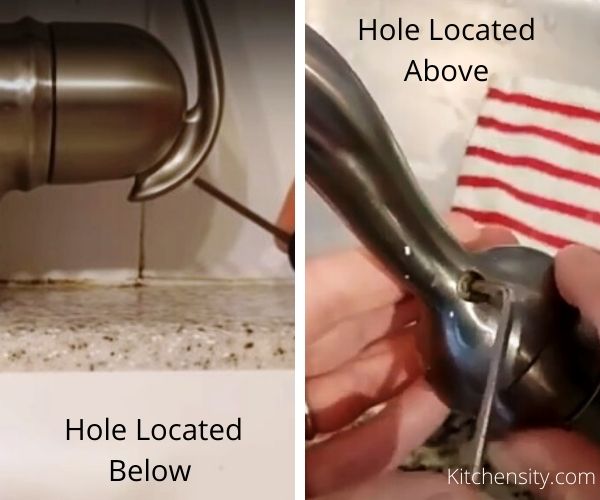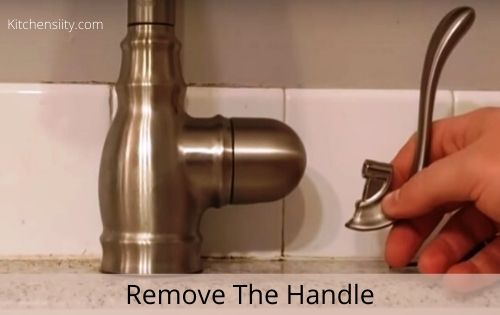 After removing the plastic cap, take an Allen wrench or hex wrench and put it inside the hole, and unscrew it in a counterclockwise direction to open the handle. The faucet handle should easily come out.
Now you have to remove the collar that is covering the valve inside. Just turn the collar in the counterclockwise direction with your hand and it should easily come out.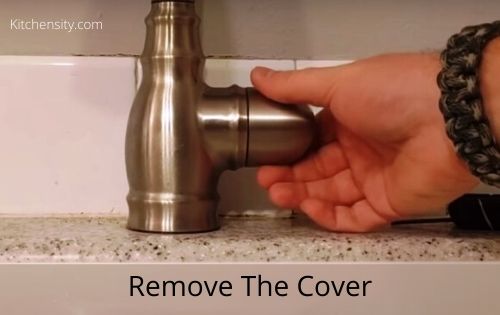 If it's too tight, then you can take the help of an adjustable wrench or plier to make it lose.
But keep in mind don't apply too much pressure otherwise you may scratch it or even break it up.
To protect it, you can cover it with a cloth or rubber band and then use the wrench to remove it.
Step 3: Tighten The Ring To Make The Faucet Handle Tight
Finally, after removing the collar, you will notice a valve is held tight by a ring (usually brass but it can be any metal or plastic). You have to tighten the ring using any appropriate tool. Like you can use a knife or pry tool or whatever fits in it and try to make it tight in a clockwise direction.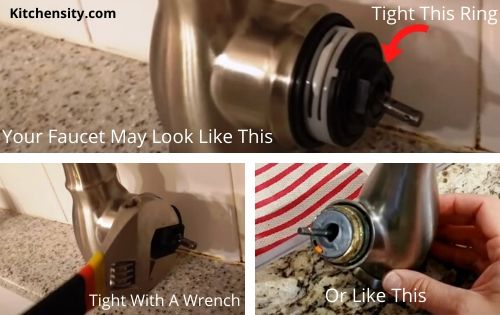 But make sure don't just make it too tight, otherwise, the faucet handle will be also tight. Try to keep it in the middle, not so tight nor loose. After that, attached all the parts accordingly back to their position and turn on the valves. That's it.
Now it's time for the second problem to solve.
You May Also Like: 6 Pull-Out Spray Kitchen Faucet Problems
How To Tighten A Loose Moen Kitchen Faucet Base?
You have learned to tighten the single handle Moen kitchen faucet and now it's time to tighten the base.
Because when the base becomes lose it feels so annoying and it prevents the ability of the faucet to turn on and off efficiently. Also, a loose faucet base can move freely (wiggles) and may cause a leak because it may crack the water lines supplying the faucet.
So, it's very important to solve the matter as soon as possible. But don't panic, it is also an easy task that you can do yourself.
Let's begin:
Here the main work is to tighten the mounting nuts which hold the faucet basically in its position. These nuts are located beneath your faucet.
What Do You Need?
Adjustable Wrench or Pliers.
A cloth or towel.
Toothbrush.
Step 1: Off The Valves
Before starting, you should off both the hot and cold water valves to prevent any unwanted water flooding.
Step 2: Cleaning The Mounting Nuts (Not Mandatory)
If your mounting nuts or the nuts that basically holding the faucet is dirty then take the toothbrush and clean it. You can spray some cleanser and wipe it with a towel or cloth. 
This step is not mandatory but doing this will help you to see the nuts clearly. But if your nuts are clean then you can skip this step.
Step 3: Tightening The Mounting Nuts
Once you clean it, now it's time to tighten it. Take the adjustable wrench or plier basically which fits the nut perfectly and turn it in a clockwise direction. This method works 100 percent whenever my faucet becomes loose. That's it !!!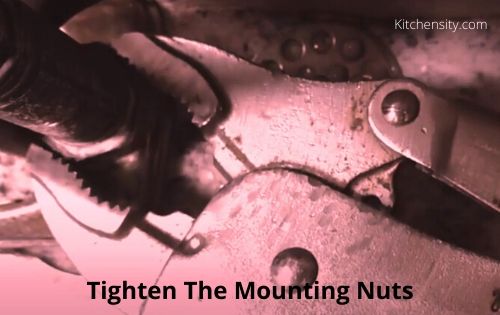 If your faucet is old then you may require a basin wrench because in older versions other wrenches don't fit perfectly and it becomes a little difficult to tighten it. But this simply doesn't mean that without a basin wrench you can't remove it.
You May Also Like: How To Remove Kitchen Faucet Without Basin Wrench?
Conclusion
These DIYs can save you the money that you could have given to a plumber for just 5-minute work. It's not about the money but why spend it, if you can easily do this type of task within minutes.
These are probably one of the easiest plumbing tasks that you can do yourself. 
Now you may ask, my faucet design is different but the mechanism will be the same for all the Moen products. Not only for Moen faucets but also these methods will be applicable to any other brand's faucets as the overall mechanism will be similar. 
Depending on the faucet you may have more rubber rings or gasket but don't worry you can solve the problem by following the same process.
Now, it's your time to share your experience with us, what was your problem and how did you solve it. 
Please don't forget to share this article with your friends and family because this keeps us motivated to write this type of article.
FAQ's
Are These Methods Suitable For Any Other Faucets Brand?

Yes, definitely you can try these methods with any other faucet brand. Because your faucet's design may be different but the overall mechanism will be similar.

What Size Allen Wrench To Tighten Moen Kitchen Faucet Handle?

For most of the cases, it is 3/32 seconds or 7/64 seconds. Basically, these two sizes are most common in most Moen Faucets. You can visit their official faq page for more information.

Are Any Special Plumbing Tools Needed For Tightening The Faucet Handle And Base?

The answer is no. You don't need any special plumbing tools to fix these problems. If you have an adjustable wrench or plier that's enough.