Refacing kitchen cabinets is the best way to renovate them without changing the existing layout of the cabinets.
Often people get confused between refacing and replacing, but both are different terms. Replacing means changing the entire cabinets while refacing means changing some parts.
So, here I will explain everything and provide you with a step-by-step guide to reface your kitchen cabinets at an affordable cost.
What Do You Mean By Refacing Kitchen Cabinets?
Refacing means changing the appearance of the cabinets without replacing the base cabinets, i.e., it will update the look by keeping the existing layout of your kitchen.
Some may install plywood or solid wood, or some may directly reinforce veneer or laminate to the frame, drawers front and sides of the cabinet.
But, to make it more durable, strong, and premium, I prefer to reinforce durable plywood to the cabinet's frame, sides first, then apply some good quality veneer or laminate over the plywood. 
Finally, new hinges (if required) and handles are added to enhance the look. You can also paint the cabinets to make them more premium and modern.
In refacing, cabinet doors are also changed, but you can modify it by fixing plywood or veneer to cut the cost.
Now you are thinking, how can I do this? It's a professional job. 
You don't need to be a professional to do this job. You can do the refacing by following some basic steps, which I will discuss here.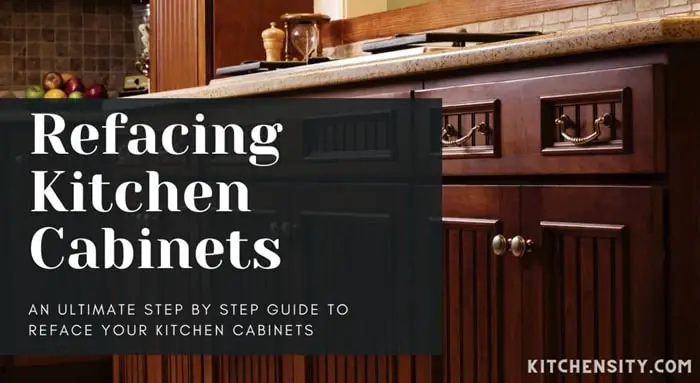 Now, let's begin…
Refacing Kitchen Cabinets: A Step By Step Guide
To do the refacing, you need some materials before proceeding with the work.
Some of the materials may be present in your home, and some may be required to purchase.
Whatever materials I will list here are based on my project so, you can skip some products if you think they are not required. You can skip the plywood and can directly reinforce the veneer to save more money. 
So, I will list all the materials required for this project, and I will try to link to Amazon for some products.
Materials Required
Plywood (¼ inch thick)
Veneer or laminate (your choice)
Cabinet Doors (not required if existing doors are in good condition)
Primer and Paint (if you want to paint)
The quantity of the materials will vary from kitchen to kitchen. It depends on your kitchen size and the number of cabinets.
There are ready-made veneer cabinet refacing kits are available, but if you want to make it custom, you can definitely do it.
You have to reinforce plywood to the cabinet's frame and sides. So, measure the frame and sides, and based on your requirement, you can purchase the plywood and veneer.
Now, let's start the procedure.
Procedure
Step 1: First, remove all the doors, hardware, and drawers for the refacing work.
Step 2: Then, measure the frame, the sides, and the drawer's front side of the cabinets. It means you have to measure the length and the breadth correctly.
Step 3: Take a pencil and mark the dimensions on the plywood, and cut accordingly. (You can skip this step if you are not using plywood)
Step 4: Similarly, cut the veneer by taking the exact measurements, or you can use the ready-made veneer kits to make your work easier.
Step 5: Your cutting job is finished, and now it's time to attach all the parts. Apply adhesive to the plywood and also to the sides and frames.
Step 6: Now, one by one, fix all the plywood pieces to the cabinet's frames and sides. Also, nail the pieces with a nailgun for solid bonding.
Step 7: All your plywood pieces are added to the cabinets, and now, it's time to bond the veneer to the cabinet's frames, sides, and the drawer's front.
Step 8: Again, apply adhesive to all the veneer pieces, drawer's front, and also to the plywood for solid bonding.
Step 9: Now, properly fix all the veneers and let them sit for drying.
Step 10: After drying, check for any sharp edges or roughness on the sides. If it is there, then sand properly to make them smooth. 
Step 11: Finally, fix the new doors, hinges, handles, or any fixtures back to their positions and done. 
Your kitchen cabinets are now refaced, and they will look completely new and attractive. You can enhance the look even more by painting them with your desired color.
If you want to paint them, you can do it just after adding the plywood. Or, if you have added only veneers, then you can paint them too. It's entirely your choice. 
Steps To Paint The Cabinets (It's Optional)
First, sand the surface to make it smooth.
Clean the surface with any cleaner for debris and rub with a cloth to dry.
Now, apply the first coat of primer and let it dry.
After drying, apply the second coat of primer and again let it dry.
Finally, paint the cabinets with your desired color. Try to give two coats of paint to make it smooth and attractive.   
Refacing Vs Painting Cabinets: Is It Better To Reface Or Paint Cabinets?
Refacing will change the entire look or appearance of the cabinets, whereas painting will give your cabinetry a fresh look.
In refacing, changing of hardware and doors are involved, but in painting, there are no hardware changes; you only need to paint them. 
That's why painting is a lot cheaper than refacing because it does not involve any hardware or door cost. You have to bear the cost of sandpaper, primer, and paint.
Now, which is better? To reface or to paint the cabinets.
Both the options are equally good as there is no such better option. Actually, it depends on a person's requirements and the budget.
If somebody is on a tight budget, then painting will be the best option as it will also give the cabinetry a fresh look. Though it is not a long-term investment, for a few years, they will look fresh.
But, if somebody wants to invest and needs an entirely new look or appearance of their cabinetry, they can try to reface, and it will cost them only 50% of new custom cabinets.
For sure, refacing will enhance the look to modern and attractive, but it needs a reasonable budget, whereas painting can update the look under $100.  
FAQ's
1. How Much Does It Cost To Reface Kitchen Cabinets?
The cost of refacing kitchen cabinets involves many factors like the size of the kitchen, the addition of new doors, fixtures, hardware, labor cost, etc.
Suppose your kitchen size is 10 by 12, which is an ideal size for most homeowners, and you have hired a contractor and added a real wood veneer, then it may cost you somewhere between $5000 to $7000.
Instead of using a real wood veneer, if you use plastic laminates, then it may cost you somewhere between $1500 to $3000. 
But, you can cut the cost to a large extent by doing it yourself. You can buy ready-made materials like cabinets, doors, and veneer kits and cut the cost by DIY.
You can buy the real wood veneer and cabinet doors in Homedepot. The veneer costs are $25-$30 for 24 by 96 inches and $40-$50 for 48 by 96 inches, and the cost of the door is also between $45 to $50 per piece.
Based upon your requirement, you can order the required quantity. So, if I combine all the costs for a 10 by 12 size kitchen, then it will be somewhere between $1200 to $1500 for a DIY real wood veneer refacing.
But if you opt for laminate, then it will be a lot lesser than the veneer. This price includes all the things like the new hinges, handles, etc., because hinges will cost you $5-$50 per piece, and handles will cost you $30 to $60 per piece. 
2. Is It Worth It To Reface Kitchen Cabinets?
Yes, it is worth refacing kitchen cabinets. Because it can save you a lot of money by giving the same experience of remodeling. 
Remodeling the kitchen cabinets can be costly but refacing is cheaper than that, usually, 50% of remodeling.
It will also change the appearance and make your kitchen even more attractive and modern.
Refacing kitchen cabinets is cheaper than replacing them. Replacing may cost you somewhere between $10000 to $15000 but refacing will cost you somewhere between $5000 to $7000, i.e., it is almost 50% cheaper. These estimates can go higher or lower depending on your kitchen size and materials used.
4. How Do You Reface Old Kitchen Cabinets?
To reface old kitchen cabinets, first remove all the hardware, doors, and drawers. Then add the veneer sheets to the frames, sides, and drawer's front of the cabinets. After that, add the new doors, hinges, and handles to their original positions, and you are done.
You May Also Like
Final Words
Refacing kitchen cabinets requires a lot of patience and time if you do it yourself. If you hire a contractor, it can be expensive, but they can complete it in 2-3 days.
So, either you have to invest money or invest time to reface kitchen cabinets. Though doing it yourself may require time and patience, but it can be both exciting and a fun job to do. Also, it will save you a lot of money.
Now, it's your choice what you want to do? You want to invest money or time.