You want to renovate your kitchen by replacing the old cabinets but do not want to change the existing countertop.
Now you are thinking that, is it possible to replace kitchen cabinets without replacing countertop?
Yes, you can do that, but you have to be careful while doing it. Changing the cabinets without removing the countertop is tricky.
While removing the cabinets, you have to support the countertop with the help of some clamps and stand. After that, remove all the screws, doors, sliders, or fixtures, and remove the cabinets. The top portion of the cabinet may be fixed by adhesive, so remove it with a knife and pull the cabinets slowly.
You have seen the basic steps, and now, it's time to go for the step-by-step guide.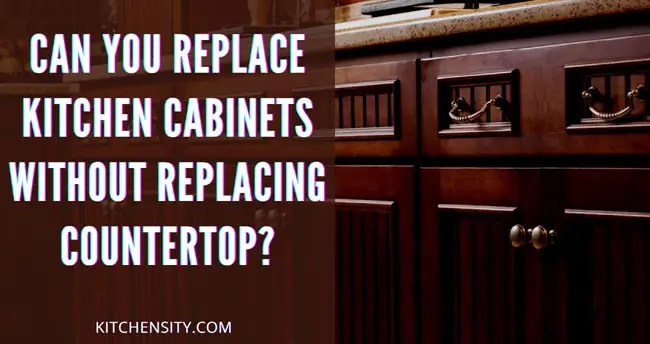 Let's begin.
How To Replace Kitchen Cabinets Without Replacing Countertop?
Before proceeding with the process, you will need some materials, so collect them first to continue the steps.
Let's check what materials are required?
Materials Required
Long Hollow Rectangular Iron Pipe or Wood Lumber
Knife
Small Wood Lumbers for Vertical Support
Scraper
Procedure
Step 1: Supporting The Countertop In Its Position
You have to support the countertop in its position before removing the countertop. This step is very crucial because when you remove the cabinets, the countertop will fall.
So to prevent it from falling, you have to support it with some stand, table, or any other thing that you find suitable to support the countertop in its position. Follow these steps:
Take a long hollow rectangular iron pipe or any long solid wood lumber.
Attach the pipe to the countertop with some clamp to hold it properly. 
Now, take some wood lumber or furring strips and add them vertically to support the iron pipe. You can check the below picture.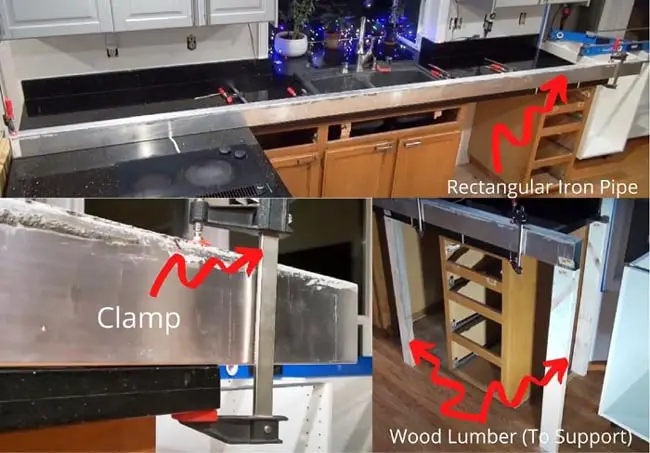 Step 2: Remove All The Screws, Hinges, Doors, Or Any Fixtures
You can also do this step initially but don't try to remove the cabinets at first.
First, unscrew with a driver driller and then remove the doors, drawers, sliders, hinges, or any fixtures attached to the cabinets. Now, you can move to the next step.    
Step 3: Remove The Cabinets    
You can easily remove the sides of the cabinets, but the upper portion, attached to the countertop, wants some effort.
Because most of the time, these are bonded with strong adhesive, and to remove that, you have to take a knife or any flat utensil to cut the bonding (the sticky rubber-like substance).
Now, pull the base cabinets slowly, and it should come out easily. After removing, it will leave some sticky rubber-like substance on the lower base of the countertop.
You have to scrape that substance with a scraper or any other tool; otherwise, it will create problems while installing the new kitchen cabinets.
Note: Don't throw the old cabinets; they are very useful. You can transform them into other furniture or table or shoe rack, etc., or you can flip them to earn money.
You can follow the below video to learn more.
FAQ's
1. How To Remove Lower Kitchen Cabinets Without Damage?
The steps to remove the lower kitchen cabinets without damage will be the same as above. It would be best if you were careful while removing the cabinets.
Don't rush and pull it forcefully. First, remove all the nuts and screws, then remove the adhesive and slowly pull the cabinets. In this way, it will remove the cabinets without damage.
2. How Do I Get Rid Of Old Kitchen Cabinets?
You can do so many things with your old kitchen cabinets. You can transform it into any suitable furniture like a shoe rack, wine rack, wall cabinet, console table, kitchen island, etc.
Or, You can flip your furniture to earn some decent money. Flipping furniture is a skill that requires experience and knowledge.
But with the help of this course, you gain that knowledge and experience and start earning some handsome money. 
You May Also Like
Final Thoughts
It is not that difficult to replace kitchen cabinets without replacing countertops, but you must be careful while doing so.
Because if you rush or pull it harder, you may break the cabinets, or the countertop may fall. So, to avoid such things, you can do this with soft hands or try to pull it slower.
While removing, you may break one or two cabinets initially but don't get scared it's absolutely fine.