Kitchen cabinets are very essential built-in furniture that is installed in the kitchen for our convenience.
It is used for many purposes such as storage of cookware, kitchenware, food, dishes, etc, and sometimes appliances are also integrated into kitchen cabinetry.
Without cabinets, the kitchen will look messy as the arrangements of cookware and kitchenware will not be perfect and we have to keep all the items on the countertop. 
That's why people installed kitchen cabinets and as this furniture comes with so many utilities and functions, the price will definitely go high.
So, why are kitchen cabinets so expensive? 
The kitchen cabinet's costs vary from type to type. If it is custom made then the cost will go high. It is expensive not entirely for the materials used but mostly for the labor charges. Because to build only one cabinet, the labor almost needs 6-8 hours to complete it and if it contains hardwood drawer boxes then they will need more time. That's why custom-designed cabinetry costs more than the regular one.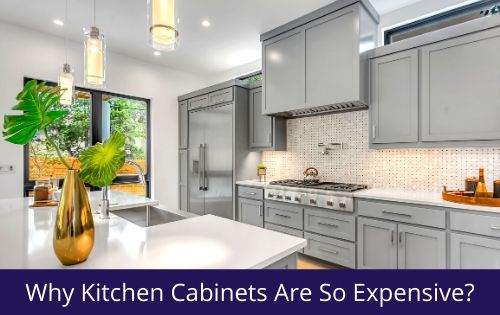 We will discuss here today, the factors that affect the price hike, how you can reduce the price, what other options you have, and also how to maintain the cabinets so that it can last you longer.
You May Also Like: What Is The Effect Of Oven Cleaner On Kitchen Countertops?
Let's begin:
What Are The Factors That Affects The Price Of The Kitchen Cabinets? 
There are many factors that affect its price but the three main factors are:
Cost of the materials.
Custom Design.
Cost of labors or Installation cost.
These three are the main factors that affect the price of the kitchen cabinets. You can reduce the cost by controlling these three factors. We will discuss each one in detail.
#1 Cost Of The Materials
The cabinet price will increase or decrease depending upon the type of materials used. The materials mainly used are plywood or hardwood, stainless steel, solid wood, soft close hinges, glue, nails, finishing materials, blades, sandpapers, etc.
Some of the materials used: 
For Body Frame: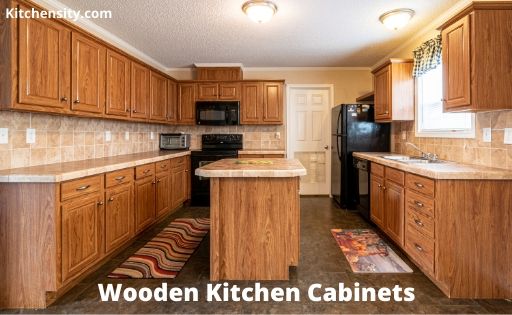 Wood
There are different types of wood available on the market for making the kitchen cabinet. For example, solid wood, plywood, medium-density fiberboard (MDF), Veneer, etc.
Solid Wood: This is a very strong and long-lasting material and most of the kitchen owners use it for cabinets. Due to its quality and durability, it cost more than the others.
Plywood: Plywood is another common material that is used in kitchen cabinets. It is cheaper than solid wood and offers excellent water resistance.
MDF or Medium-Density Fiberboard: It's a product made by breaking down the solid wood into fibers and then combine with wax and resin binder under high pressure and temperature. MDF is generally stronger and denser than plywood but it is cheaper than plywood and it prevents termites.
Veneer: It is usually the thin slices of wood or barks that are glued together to make flat panels. Plywood, MDF is a type of veneer wood. Its cost usually depends on the type of wood used.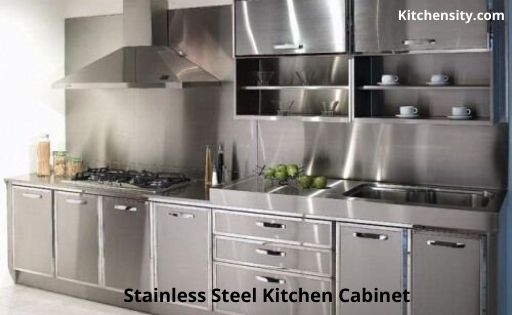 Stainless Steel
These kitchen cabinets are very strong, durable, and are easy to maintain. They are suited for all climate conditions and are termites proof. But the main thing is that they are costlier than wood.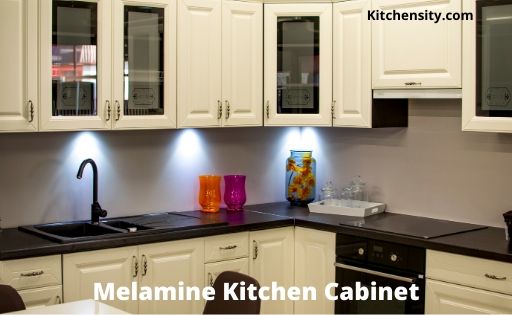 Melamine
These materials are made by heat-sealing plywood or MDF pressed wood between paper saturated with thermally mixed melamine resin. Melamine offers beautiful solid colors and smoothness and can also replicate the wood tones. It is cheaper than all the options above and also durable than MDF.
We have seen that stainless steel costs more than the other options but it is more durable and strong. Also, it is suitable for all climatic conditions and is termites proof. So, if you consider it for a long term game then stainless steel will be a better option.
But, if you live in an area where terminates attack is not very common then do consider wooden cabinets as it looks very elegant and beautiful. Also, it will cost less than stainless steel.
To make it durable and beautiful, you can make the frame with solid wood and make the door of MDF. This method will be both cost-effective and beautiful. 
You May Also Like: How To Tighten A Loose Moen Single Handle Kitchen Faucet?
#2 Custom Cabinets Design
This is the main factor for the higher price of kitchen cabinets. In custom design, the design is made according to the user's instructions and kitchen size. Here you can give any designs according to your choice and convenience. 
No doubt, this is the most convenient kitchen cabinet but it costs more. Because it needs more cutting and finishing of the materials to meet the user's demand. Fulfilling the demand takes time and costs more labor.
If your budget allows then definitely go for the custom design option.
Are Custom Cabinets Worth It?
Custom cabinets are the most convenient and efficient options that one can install in his/her kitchen. You can give the exact measurements and specifications according to your kitchen and there won't be any dead spaces or awkward corners. It is a much better option compared to stock cabinets if budget is not the issue.
You can add a baking area, wine chiller, or anything that makes your kitchen more efficient and convenient. You can increase or decrease the height for the maximum potential storage area.
If you ever want to sell your home then this beautiful custom kitchen cabinetry will definitely increase the value of your home. So definitely, the custom cabinets are worth it.
How Much Do Custom Cabinets Cost Per Foot?
The cost of the custom cabinets will depend on so many factors like the material used, the size of the kitchen, design, height, and also the area where you live. The materials cost is nothing compared to the labor cost. The labor cost is around 75% of your total cost.
The national average for a linear foot is about $300 to $500 minimum and may go up to $1000 to $1500.
If you want to add the standard appliances then it will cost you more or if you own it already then no worry.
Let suppose, your kitchen has 25 linear foot space available then considering $300 per linear foot it will cost you $7500. If the cost of labor is high in your area then it will cost you more. So, if you want to make a custom cabinet then consider your budget a little more than that.
If you love DIY or love making your own products then this 16000 wood plans will help you out. Must try!!!
#3 Labor Charges or Installation Costs
This question, "why kitchen cabinets are so expensive?" is satisfied by the last criteria i.e. labor charge. Because of the labor charges, the installation cost or the refacing cost of the kitchen cabinets increases.
You can buy the materials at a cheap price but to give it the shape you need an expert who will charge for his labor. Because it takes so much time to build a cabinet from start to finish. Labor has to engage himself for the entire day to give it a proper look that's why they take the main money.
For example, if you want to make a kitchen cabinet with a glossy maple finish of 3 shelves then you will require –
Plywood (Maple Veneer) of say $40
Maple Hardwood of say $40
Miscellaneous (glue, nails, blades, sandpaper, etc) for $4-$5
Soft Close Hinges for $25
Polyurethane Finishing for $15-$20
Now if you add all the materials price that will cost you somewhere $124 to 130$ or let's say $150 to build one cabinet.
So, you have seen that the materials will not cost that much, it's mainly because of the labor charges. If the carpenter charges 30-35 dollars per hour then it would cost you somewhere 240 to 280 dollars for eight hours.
So, roughly to build one cabinet from start to finish it will cost you around $400. This is just an estimate, usually, it can cost you more or less depending on your area.
If you want to earn money through flipping furniture or cabinets, then do check it out this course on flipping furniture. (A way to earn $1000 extra per week)
You May Also Like: How To Remove Kitchen Faucet Without Basin Wrench?
FAQ's
Is It Cheaper To Make Your Own Cabinets?
If you do it by yourself then it may be cheap but if you hire someone to make the custom cabinets then the price will go high. You can also update the old cabinets to modern ones by doing some simple DIY.
What's The Difference Between Custom Cabinets And Stock?
Custom cabinets are made according to your convenience. You can give any design, color, material, or size of your choice.
Whereas, stock cabinets are premade and you just need to assemble it. They are available in definite sizes, design, and colors. No one can give their own design, color, or size.
Are Stainless Steel Kitchen Cabinets Expensive?
Yes, stainless steel kitchen cabinet are expensive than the other materials. They are even more expensive than some high end woods but more durable than any other material available. It will last you for ages and if you clean it from time to time then it will always look like new.
How Much Should You Spend On Kitchen Cabinets?
This question can be best answered by you because you are the one who is making the cabinets. If you want a stock cabinet then it will cost you somewhere between $150 to $250 per linear foot but if you want a custom one then it will $300+ per linear foot.
So, properly measure your kitchen space and make your budget accordingly. If you want an idea then a custom 25 linear foot cabinet will cost you somewhere around $7500+.
Conclusion
Thus you have seen why kitchen cabinets are so expensive. The cost totally depends on your choice, how you want to build it, or what materials or design you want to use.
So, to make it cost-effective and durable you can mix the materials or the best way is that you can make it yourself.
The kitchen is the place where the home-chef spends most of the time and that's why they want to make their kitchen beautiful and functional. Here the kitchen cabinets play a very important role to give an elegant look to the kitchen.
If you find our article interesting and helpful, please do share it with your friends and family, and also don't forget to leave a comment below. Thank You !!!