There are many questions about enamel cast iron cookware that you can't find in one place. You have to search the internet or ask people over and over again.
So, I have accumulated all these questions and tried to answer them directly. Gradually, I will add more and more questions like this to help the home chefs. 
These questions are asked often by beginners but sometimes the experts also need them to clear their doubts.
I hope, you will find this article helpful, and if you have any suggestions, then you can always comment below
Let's check these enamel cast iron questions and clear your doubts.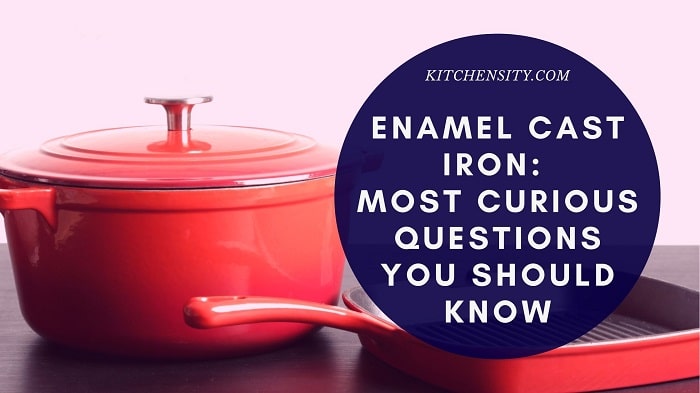 1. Can You Put Enameled Cast Iron In The Oven?
Enameled cast iron cookware is designed to withstand high temperatures. So yes, you can put it in the oven. But, you can't overheat the cookware as the enameled coating may be chipped. Most brands make their enamel dutch oven or cookware oven-safe up to 500 degrees F, so above that temperature will damage the cookware.
I always prefer to cook below 400 degrees F or 200 degrees C. As for most cases, the food items get easily cooked at that temperature. So depending on food items, you have to adjust the temperature but don't exceed over 500 degrees F.
After cooking, don't clean it immediately. Let it cool completely, and then clean and dry it properly before storing it to make the cookware long-lasting.
2. Can You Put Enamel Cast Iron In The Dishwasher?
Most brands make their enamel cast iron cookware dishwasher safe but it doesn't mean that you always put it in the dishwasher. You can do it one or two times, but it is never recommended to put your enamel cookware in the dishwasher. 
According to some experts and bigger brands like Lodge, hand washing the enamel cast iron cookware is always better than using dishwashers. Because cleaning it in the dishwasher may damage the cookware over time although it is dishwasher safe.
The heat and the pressure of the water in the dishwasher are responsible for this damage. The enamel cookware is to be handled with care as they are very delicate. You can't compare it to regular cast iron cookware, as they are very rough and tough.  
3. Can You Use Enameled Cast Iron On A Glass Cooktop?
The glass cooktop is made of ceramic coating which is very tough, heat resistant, translucent, and durable. But it is easily scratchable if you slide heavy and rough cookware on it. On the other hand, the enamel cast iron cookware is also coated with glass material with a smooth base, so yes, you can easily use it on a glass cooktop.
However, you have to be a little careful while using it on a glass cooktop as this cookware is heavy, it may scratch the cooktop if you slide it. So whenever you are using it, always put and lift it directly, please remember don't ever slide the cookware. 
And if you are thinking of using the traditional cast iron cookware on the glass cooktop, please try to avoid it because its heaviness and base roughness may damage your cooktop. But if you are extremely careful, then you may use it. 
4. Can You Use Vinegar On Enameled Cast Iron?
Yes, you can use vinegar on an enameled cast iron. Whether you are using it for cooking or cleaning, it is absolutely fine to use vinegar on it.
If you are using vinegar for cleaning, then use it with baking soda and warm water for excellent results. If you have stubborn stains then follow these instructions to get a better result.
First, make a paste of baking soda and warm water, apply it to the stains and leave it for some time. After that, pour 2-3 tablespoons of white vinegar and again leave it for a few minutes. Now, you can take a soft scrubber for wiping and rinse with water to get clean cookware.
But remember one thing, don't mix vinegar and bleach. It will release some gas which may lead to a cough or may burn your eyes.
5. Can You Use Steel Wool On Enameled Cast Iron?
Enameled cast iron cookware has a smooth coating made of glass, so it is not advisable to use steel wool or any hard scrubber or metal utensils, or any abrasive pads while cleaning.
Whenever you are cleaning, always use any soft sponge or scrubber to maintain its coating. Otherwise, if you use steel wool or any abrasive pads, the coating may get scratched and when you will cook, the food items will stick on it.
If you have stubborn stains or your pan is burnt, then follow the above method to clean the cookware and you will be amazed to see the results. The above method means using baking soda + warm water + white vinegar.
6. How Can You Tell If Cast Iron Is Enameled?
There is a difference between a raw cast iron skillet and an enameled cast iron skillet where the former is a little rough if unseasoned and the latter is very smooth and glossy.
Also, the enameled cookware comes in different shapes and colors that make it easy for anyone to tell if cast iron is enameled or not.      
Basically, the enamel is a ceramic coating that is applied to the metal to make it glossy-smooth, colorful and protect it from rusting. Whereas raw cast iron is black and matte in appearance. If unseasoned, the cookware surface will be rough to touch and if seasoned, the cooking surface will be smooth but a tiny bit greasy. So by looking or touching the pan, you can tell if cast iron is enameled. 
But, some brands like Le Creuset make some enameled products that look exactly like a raw cast iron which they call a "Black Satin" finish to mimic the well-seasoned raw cast iron pan. This type of cookware can also be identified by viewing the surface closely as it will be smooth and plane.
You May Also Like