We all love to eat delicious food and many love cooking but when it comes to cleaning only a few love it and others stay back.
Cleaning is easy when you clean it just after cooking but it becomes a little tough when you keep it for later or if you burnt it. 
But, today I will show you the easiest ways to clean a cast iron grill pan with the items that are easily available in your home.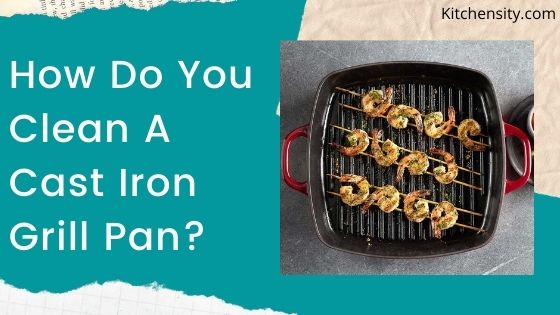 So, without any delay let's start cleaning.
How To Clean A Cast Iron Grill Pan?
To clean the grill pan there are various methods available but I will show you the easiest methods which are very effective and time-saving.
First, fill the grill pan with salt and scrub with a sponge. After that, wash with warm water and check for any stains or rust. If any stains present then pour some dish soap and properly rub with a sponge and finally, rinse with warm water. That's it.
Let's begin
#Method 1: Cleaning with Salt
This is the easiest one that I love the most and obviously salt is available in every household. So first start with this method.
What Do You Need?
Salt (the bigger is better)
Scrubber or steel wool
Warm water
Brillo Pad (Not necessary if you have dish soap)
Process
First, fill the pan with a handful amount of salt. Basically, you have to cover the entire pan with salt. The bigger grains give a great result.
Now, scrub the pan with the scrubber properly. Scrub each side of the pan properly and try to remove the stains as much as possible.
After scrubbing with salt, now wash with warm water and check if any stains or rust left.
If left then, apply some dish soap liquid or you can take the Brillo Pad and apply some water and rub the pan nicely.
After that, rinse it with warm water and let it dry. You can soak the excess water with a paper towel or any cloth to dry it quickly. This step will remove any stains or rust leftovers.
Your grill pan is completely cleaned and now, it's time to season it for later use. Seasoning is important otherwise your cooking experience will become worse.
You have seen how easy this process was and all items are easily available at home so anyone can do it with ease.
You can watch the video for more information:
Now, let's move to the next step.
Also Read: How To Season And Clean Cast Iron Cookware?
#Method 2: Cleaning With Vinegar And Baking Soda
This method also easy but it takes a little time. If the method is not successful or if your pan is extremely rusted then try this one.
So, let's start.
What Do You Need?
Salt
Scrubber
Warm water
Liquid Dish Soap
Process
First, spread some salt on the pan then sprinkle some baking soda.
After that, pour some vinegar and warm water on that and keep it idle for 4-5 hours. You can make the process faster by heating for some time and then keep it for 2-3 hours.
When you keep it for long the mixture begins to react and wipe out all the rusted or stained portion.
After 4-5 hours take a scrubber (take the sponge portion, not the green part) and start rubbing the cookware and you will see all the particles will be wiped out.
Now, take some dish liquid and again rub with a sponge and finally rinse in warm water to get a completely cleaned cast iron grill pan.
After cleaning you know what you have to do, dry it out and season it for later use.
This is the most effective method that I have tried and tested various times. This process removes almost all the rusted parts and totally cleaned your pan.
#Method 3: Cleaning with Water and Scrapper
This method is very effective when large grains of food stuck on your pan or you are out of supplies. 
What Do You Need?
Warm water
Spatula or any scrapper or chopsticks.
Process
First, set the grill pan on the stove, on the flame, and fill it with about 2-3 inches of water depending on the size of the side walls.
After a few minutes of boiling, you will notice some food particles will float to the surface of the water.
When you notice the food particles are floating then take a scraper or a spatula and start scrapping between the ridges to loosen any stuck food.
Now let the pan cool for a few minutes and then dump the particles along with the water.
Finally, rinse the pan with warm water or you can wash with dish soap to get perfectly clean and after that, dry it with a paper towel and finally, season it for later use.
#Method 4: Cleaning with Cast Iron Cleaner Kit
This method is for those persons who don't want to try the above methods and wants a professional or 100% working process. This method is very effective because these items are specially designed for cast iron products.
What Do You Need?
Culina Supreme Cast Iron Care Set (includes – scrub, cleaning soap, and conditioning oil)
Warm water
Sponge
Process
First, apply the Culina cast iron restoring scrub on the pan nicely.
Then take a sponge and begin to scrub the pan.
Now add warm water and keep it for a while.
After some time, again rub the pan properly and dump the particles along with the water.
Now, pour the Culina cleaning soap, take a sponge, and rub it properly.
Finally, rinse the cast iron grill pan in warm water and season it with the Culina conditioning oil. Your pan will be glazed again like before.
This method is very effective as all the products are specially designed to clean and protect cast iron cookware.
So, if you want a more convenient way to clean your pan then you can go for this option. You can buy the cleaning kit here.
You May Also Like
Conclusion
All of these methods are tried and tested ones so all works great. The first three one's cleaning materials are easily available in every household, so it becomes very convenient to clean the pan without buying anything.
For the 4th one, you have to purchase the kit to clean it but the benefit of buying the cleaning kit is that you can use it for cleaning any cast iron cookware that is available in your home.
If you ask me, I personally prefer method no 1 but, now it's your turn to choose the desired method to clean a cast iron grill pan.
Which method will you choose?
Please mention in the comment section and also do share this article with your friends and family. Thank You !!!