Are you planning to purchase a new coffee maker?
You want something that will guarantee a great experience but not break the bank as well.
Yes, there are some brands that make coffee makers which are affordable and produce great results as well.
You will find these best Coffee Makers for your house for less than 200 USD, and they will serve you for a long time efficiently. But to ensure it does the work, you also need to take good care of it.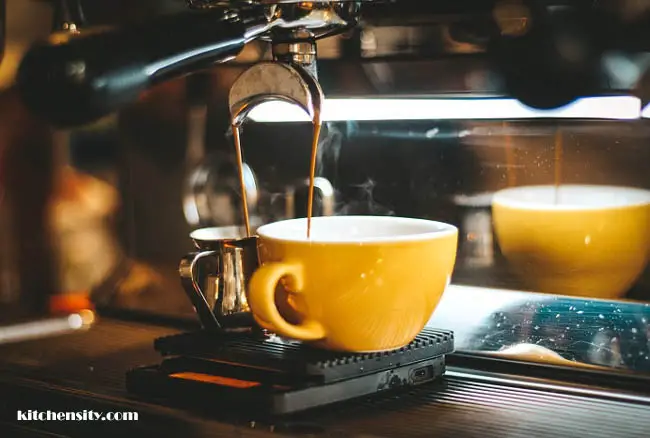 Rich, creamy, and quick to drink, can be a great way to start your day with a shot or two.
However, buying coffee at a coffee shop or purchasing a high-end machine could be too expensive.
Don't worry; you don't have to invest thousands of dollars to get a huge shot of coffee pulled.
In some of your favorite cafés, you have already seen some expensive-looking, complicated Coffee Maker. And it is a sure bet that you have wondered how much it would cost to get one.
Well, the machines in commercial cafés that you see are expensive and would be a waste in your home.
If you are in a hurry and don't want to read the reviews, then you can opt for this coffee maker.
We've reviewed the top models on the market to save you time shopping and studying. Continue reading for our Best Coffee Maker rankings under $200.
Best Coffee Makers Under 200 Dollars Chart
| Products | Images | Where to Buy | Ratings |
| --- | --- | --- | --- |
| Ninja Specialty Fold-Away Frother Coffee Maker | | Buy On Amazon | 🌟🌟🌟🌟🌟 |
| KitchenAid Smart 12-Cup Coffee Maker | | Buy On Amazon | 🌟🌟🌟🌟 |
| Ninja Hot and Cold Brewed System Coffee Maker | | Buy On Amazon | 🌟🌟🌟🌟🌟 |
| Cuisinart Stainless Steel Thermal Coffee Maker | | Buy On Amazon | 🌟🌟🌟🌟 |
| Ninja 12-Cup Programmable Brewer Coffee Maker | | Buy On Amazon | 🌟🌟🌟🌟🌟 |
Let's start reviewing one by one:
The specialist Ninja CM401 Coffee Maker is a very nice addition to any kitchen. It is a very stylish device, styled elegantly in stainless steel and matt black.
The unit can brew traditional coffee in two strengths, up to a full carafe in six sizes, or it can be used to create iced coffee, cappuccino, or latte drinks.
When unboxing the Ninja CM401, you should be very impressed by the sleek architecture and building efficiency.
It's a beautiful combination of matte black and stainless surfaces, accentuated by a crystal clear water reservoir and features a complete but very intuitive control panel set into a stainless frame.
A smart scoop is flush-mounted in a bracket on one side, ensuring you always have the measuring device at your hand.
Tucked inside the back is fold-away milk frothier. A set of glossy, black concentrate stripes highlight the warming plate.
The brew basket swivels forward to allow easy filling and holds a gold filter for brewing. The lovely grooved water reservoir for cleaning may be lifted off.
Features
Glass/Thermal Carafe: It can accommodate up to 10 tassels (50 ounces). This removable container can hold large amounts of coffee so you can keep going all day. The glass carafe is also a safe dishwasher, which is an incredible bonus.
Water Reservoir: The reservoir on the right side of the machine, will carry about 50 ounces of water. It also features a fold-open top to make it quick and easy to refill.
Ninja Scoop: One great thing about the scoop is that the measurements are designed to tell you how many scoops you need for whatever total brewing size you wish to make.
Frother: The frother is compact, simple to use, and FOLDABLE (we 're excited about it).
Permanent Filter: say goodbye to the money spent on paper filters! The Ninja has its filter, which will make coffee brewing a breeze.
About wattage, the heating unit measures approximately 1500 watts. With a weight of 13.4 lbs, the dimensions of the Ninja are 128.815 inches.
The Ninja has several parts that can be removed, folded, or put inside the unit itself. There are many features to this machine with a measuring scooper, refillable water reservoir, optional glass or thermal carafe that make it more than worth the price.
Pros
Glass/Thermal Carafe can accommodate up to 10 tassels (50 ounces).
Water Reservoir can carry 50 ounces of water.
The Frother is compact and foldable.
Permanent filter for easy brewing.
CONS
It is not meant for brewing teas.
The glass carafe requires extra care when cleaning or handling the coffee maker
Continue your morning off right when you prepare your coffee in the KitchenAid 12-Cup Coffee Maker with One-Touch Brewing.
The simplest part of your day will be when a fresh cup of coffee is prepared in this easy-to-use coffee maker.
On any countertop, the timeless style will make a statement, whether you're enjoying a cup for yourself or planning a full carafe while entertaining guests.
Features
Smart Options: One-touch options and 24-hour programming make brewing your coffee simple just the way you want it whenever you want.
Different Strengths: To give you full-bodied cups every time, choose between standard and bold strengths, and stop the cycle as it brews to enjoy a drink before it's complete.
Different Filters: Brew basket and gold-tone filters are secure dishwashers while intuitive programmability still delivers the fresh coffee.
Additional Features: Additional highlights include an insulated carafe to keep the coffee hot for long, simple operation, small-batch brewing mode, brew-strength selection, and pause and pour feature, etc.
This coffee maker is elegant to make a unique style statement in the kitchen as the fully programmable feature helps brew the coffee just the way you like it.
Pros
One-touch options and 24-hour programming make brewing your coffee easy.
Insulated carafe to keep the coffee hot for a long time.
Brew strength selection, small-batch brewing mode, pause and pour etc are some special features.
Brew basket and gold-tone filters are dishwasher safe.
CONS
Water overflows at times due to pressure.
Ninja (the best known for its blenders) entered the coffee market a few years ago with a homebrewer who promised to deliver a variety of coffee shop drinks in one package. From the beginning, they did a decent job, but they keep expanding functionality.
The Ninja Hot & Cold Brewed System, the latest in their lineup, might leave you wondering what else you could throw in a single brewer.
Here are a few distinct features of the Ninja Hot and Cold Brewed System:
Auto IQ: It comes with a trait of milk frothing, too. Thanks to the Auto-IQ system, the coffee maker is easy to use.
Different Settings: Ninja Hot and Cold Brewed System come with settings to control flowering time, intensity, and a wide variety of beverages in 6 different sizes.
Different Carafe's: Ninja Hot and Cold Brewed System can be ordered either with a glass carafe (CP301) or with thermal carafe (CP307) in two different models.
Brewing: A wide range of tea and coffee beverages can be brewed: hot and cold (cold brewing, hot over ice)
CP301 Ninja Hot and Cold Brewed System can brew a variety of hot and cold beverages, tea, and coffee.
The machine's architecture is modern and approachable, and the machine's entire structure appears pretty robust.
Pros
Customizable brewing process (strength, blooming time).
Very quick and efficient coffee brewing.
Modern and versatile exterior look.
Energy-efficient functionality allowing users to brew phenomenal coffee into a carafe or a mug.
CONS
There is no pot warmer to ensure the beverage is warm.
The thermal carafe is not sealed.
You need to be aware that you have some options on the market when you are looking for a coffee machine that can deliver a good cup of coffee every single time, with the same great flavour.
We also understand, though, that not all can afford to pay for a costly coffee machine. Let take a closer look at the 12-Cup Programmable Thermal Coffeemaker from Cuisinart DCC-3400.
Cuisinart DCC-3400 12-Cup Programmable Thermal Coffeemaker is an excellent coffee machine that doesn't sacrifice the flavour of the brew, and that is extremely easy to operate at the same time. Well, this enables the Cuisinart DCC-3400 12-Cup Programmable Thermal Coffee Maker one of the best coffee machines you can have if you're always on the go.
Cuisinart DCC-3400 12-Cup Programmable Thermal Coffeemaker is very simple to use and very versatile, with a beautiful and sleek design that will look good in any kitchen.
Features
Monitor & Schedule: You can monitor the coffee's flavour between normal and bold, and also you can even schedule this coffee machine to brew your coffee in the next 24 hours.
So, if you need to get up early in the morning and you want to save some time and get a great cup of coffee ready for you as soon as you get out of bed, then the Cuisinart DCC-3400 12-Cup Programmable Thermal Coffee Maker is for you. The Cuisinart DCC-3400 12-Cup Programmable Thermal Coffeemaker will issue an alarm when your coffee is ready.
Thermal Carafe: The 12-Cup Programmable Thermal Coffeemaker Cuisinart DCC-3400 comes with a 12-Cup thermal carafe, which also keeps your coffee hot for 4 hours. And you can rest assured that the coffee's flavour will not be changed in any way.
Additional Features: The 12-Cup Programmable Thermal Coffeemaker Cuisinart DCC-3400 includes the on and off button, 1-4 cup feature, and the circular button whenever you want to get a bold coffee. Due to that this coffee machine also allows you to set the alarm, in case you don't want to interrupt anyone else in the building, you can turn it off too.
The Cuisinart DCC-3400 12-Cup Programmable Thermal Coffeemaker is the very simple fact the controls are. We come with a bright blue LED light so that you can see them without any issues in both the dark and the sun.
Overall, the 12-Cup programmable thermal coffee maker Cuisinart DCC-3400 is a great coffee machine that delivers a good cup of coffee every single time. And while the carafe might be changed, the fact is that this coffee machine is long-lasting and very inexpensive for what it can produce.
Pros
You can select Regular or Bold coffee flavour with Brew strength control feature.
Have features like 24-hour programmability, auto-off, self-clean, 1-4 cup settings, optional ready alert tone, brew-pause etc.
Cool Decorative Stainless Steel handles and amazing 12-Cup thermal carafe.
Easy and transparent water window viewing for accurate filling.
Gold-Tone Coffee Filter and Charcoal Water Filter.
CONS
When filling the water reservoir, the lid doesn't give enough space to use the coffee pot.
The Ninja Coffee Brewer is a 12-cup programmable coffee maker integrated with custom brew technology to make sure your coffee is hot, flavourful, and never bitter.
You may expect the same great taste from a Small Batch up to a full carafe, Classic or Rich size.
Features
Removable Tank: The removable tank of water allows for easy filling without the mess. The basket-lid brew guarantees that no coffee grounds end up in the reservoir.
Flavour Extraction: Ninja's Thermal Flavour Extraction technology enables you to unlock your favourite ground coffee's full flavour potential and enjoy a great-tasting brew.
Rest guaranteed that your coffee grounds will be equally saturated with the Ninja XL Showerhead for uniform flavour extraction.
Different Strengths: Choose among Classic or Rich strengths with this Ninja coffee maker. -brew with Custom Brew Technology Conveniently carries the 60 oz is sweet, flavorful, and never bitter.
Temperature Warming Plate: The Flavor Straw and Precision Temp Warming Plate Pour a cup before the brew is completed with Mid-Brew Pause 24-hour programmable delay brewing allows you to prepare your brew for a day in advance.
Pros
Choose your flavourful brew whether Classic or Rich. With custom brew strengths your brew will never be bitter.
Advanced boiler for a perfectly hot cup of coffee you like.
You can prepare your brew up to a day in advance with 24-hour programmable delay brew feature.
Contain adjustable warming plate to keep your coffee fresh and flavorful up to 4 hours.
CONS
It is meant for making only two styles of brews. 
The glass carafe needs a lot more care and caution when cleaning or using the coffee maker
You May Also Like
Coffee Maker Buying Guide
You want a coffee maker that is reasonably priced and does not cost a lot. After all, you're just asking for one thing to do-make coffee.
What you want to do is make good coffee, really quickly.  All the coffee makers make coffee, so it's a convenience and speed that you compare to determine which one is the best.  
But how do you determine which features to look for?
Read on to learn the important features of the best coffee makers under 200 dollars that's fit your pocket.
Appearance
Coffee makers usually take up quite a bit of room on your kitchen counter.
Since it is going to be pretty visible, you might want to consider what kind of appliance in your kitchen will look best for.
Do you like the metal models shine, or do you prefer a low-key black profile?
If your model is mostly made of plastic, would you prefer stainless steel? It is good to choose which colour or material of the coffee maker you want to buy. 
Ease of Use
Are you an experienced Maker of Coffee?
If you have worked for years owned coffee maker, you may be interested in a manual mode that will allow you to have hands-on control over each step of your brewing process.
You may prefer a semi-automatic model if you don't know as much about the Coffee maker or don't want to put in the time to learn a new machine.
Those machines are going to do some work for you. You won't find as many automatic features in the price range under $200, including built-in grinders and self-tamping.
Ease of Cleaning
Coffee makers notoriously require constant, thorough cleaning in order to operate well.
If you are willing to incorporate that cleaning into your daily routine, you may not care about the ease of cleaning features.
If you have less time and patience to clean your machine, features like self-rising might be of interest to you.
Prices
Prices of coffee makers can vary widely. There's a variety even in the under $200 categories, so you might want to decide how much you're willing to spend.
Do you want to spend more on getting all the features you want, or are you willing to sacrifice features at a lower price?
Capacity
How many Coffee shots do you brew each day?
You may want a coffee maker machine with a large water reservoir if you brew quite a few, so you don't have to refill it constantly.
You may prefer a twin-brew head, which will allow you to brew into multiple cups simultaneously.
If you just brew one or two shots at a time, a more compact, a streamlined machine might be desirable.
Pressure
You push pressurized hot water through finely-ground, densely packed coffee beans to pull a shot of Coffee maker. But just how pressurized must the water be?
The industry-standard pressure is nine bar indicating the atmospheric pressure at sea level is nine times higher.
Most brewers think better espresso is created by a pressure of 15 to 17 bars. You may want to ask what pressure level you would like to have on your home brewer.
Coffee Beans and Coffee Pods
Coffee maker machines allow dark roast beans to be very finely ground.
You'll want to buy whole beans for the freshest flavour and grind them just before brewing, as coffee beans start losing flavour 15 minutes after grinding.
If you grind beans at home, you'll want to be careful about grinding them fine enough and packing them tightly into your portafilter.
If you don't like dealing with coffee grounds, you may want to search for a single-serve pod-compatible unit. These are likely to be more expensive, but you won't have to worry about grinding or tamping beans in a portafilter correctly.
Warranty
Coffee maker machines with many moving parts can be complicated, so your warranty may come into play.
All the machines we reviewed have at least a one-year warranty, though up to 10 years may go all the way. Keep in mind that the manufacturer may still charge you for delivery or repairs, even if a warranty protects the machine.
When buying a machine, you might want to carefully read the warranty material, and register your coffer machine with the company when you receive it.
Conclusion
All the coffee makers mentioned above are excellent with many useful features, a simple interface, and convenient automatic options.
If you work with a smaller budget, you might want to try to buy one of them as they are lightweight, low-priced manual brewer with great value.
With so many expensive coffee makers on the market, you may find it hard to find a machine of high quality for less money.
We hope our list of the five best coffee machines under $200, with comprehensive reviews of each model, will help you quickly and easily find a great alternative.