We often use a hand mixer for mixing any batter or to whip some ingredients. But, after mixing anything it becomes so messy that we have to clean it.
As it is an electrical device, people often get scared of cleaning it and wonder how to clean a hand mixer without damaging the motor.
So, you will not scared of cleaning the hand mixer if you follow our cleaning process. Without further delay, let's start cleaning.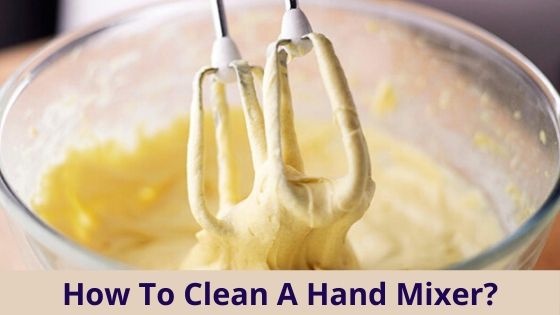 How To Clean A Hand Mixer?
The main thing about cleaning any electrical appliance is that you should not allow water to go inside the appliance.
Let's begin:
Step 1: Take a soft towel, apply some liquid detergent, and rinse it. After rinsing, squeeze it properly and clean the hand mixer. Basically, you have to clean it using a damp cloth.
Step 2: After cleaning with the damp cloth, now take a dry towel and wipe it nicely and leave it to dry completely.
The damp cloth will ensure that no water goes inside the appliance and the hand mixer got cleaned.
You May Also Like: Best Hand Mixer For Mashed Potatoes
How To Clean Hand Mixer Accessories?
Now comes the accessories, you can easily clean the accessories without any tension.
Let's begin:
Take a bowl of hot water and pour some liquid dish soap in it.
Attach the beaters or hooks to the hand mixer and start the motor.
Start it at low speed and whip the solution of water and dish soap for a minute.
This step will remove all the ingredients that are attached to the beaters.
Now, take cold water, and again start the hand mixer and whip it for another minute. This step will totally clean the accessories.
After doing the above process, now you can take a dry cloth and simply wipe the beaters.
This is a combo method as both the beaters and the bowl got cleaned in this process. So, if you have any dirty bowl you can try this.
This is a very effective method as it can clean anything (butter, cream, etc) that attached to the accessories.
Note: If by mistake water gets inside the device don't get panic. Take the device and keep it in sunlight for some time. This will dry out all the water that gets inside the hand mixer.
But make sure, you do not start the appliance immediately to test its working or not. This can malfunction the device, so first let it dry and then start it.
You May Also Like: Best Hand Mixers for Whipping Cream, Kneading and Much More
When To Clean The Hand Mixer And Its Accessories?
My recommendation is to clean the mixture immediately after use if it got dirty or something sticks to it. If nothing sticks and looks clean then you don't need to clean it.
The accessories have to be cleaned immediately after use because once it dried out, it becomes a little difficult to clean them. You can clean the beaters in soapy water daily without any tension.
What To Do If The Dirt Gets Dried Out?
If the mixture gets dried on the hand mixer then take any brush or with the help of your nail just scrap it and then wipe it out with a cloth.
If the dirt gets inside the hole where you attach the beaters, then take this brush and rotate it and try to clean it or take any cloth or brush to clean it.
Precautions
Before cleaning the hand mixer, make sure to unplug it from the electric board. Otherwise, you can get an electric shock while cleaning.
Don't split water directly to the device as it can malfunction the motor. Always use a damp cloth to clean it and wipe it with a dry cloth.