Vinyl plank flooring is a much thicker flooring that features 4 layers of fabrication and comes in long planks.
So, they are strong enough to hold any heavy appliances or cabinets.
But, is it fair to put kitchen cabinets on top of vinyl plank flooring?
Yes, you can put vinyl plank flooring under the cabinets only if the installation is glue-down. If you have done click-lock installation, then you can't put cabinets on top of it. Because in click-lock installation, the floor will expand and contract during climate change, but it will remain intact in glue-down.
Actually, Vinyl plank flooring is installed in two ways –
Click-Lock
Glue-Down
If you don't know about them, then read below.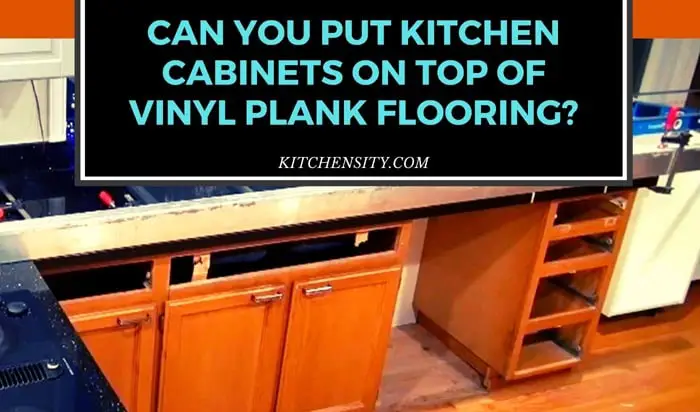 What is Click-Lock Installation?
In Click-Lock installation, the floor is interlocked around its edge, enabling the floor to be clicked or locked together.
This floor will float on the sub-floor as it is installed by a locking system, so this type of floor will expand and contract on temperature changes.
That's why it is not advisable to keep any heavy appliances or cabinets over the floating floor. If you do so, then it may lead to issues such as buckling or may damage the locking systems.
What is Glue-Down Installation?
In Glue-Down installation, the vinyl plank floor is glued down to the sub-floor, and it does not expand or contract during temperature changes, like in the case of click-lock installation.
As it is completely fixed with the sub-floor, you can put any heavy appliances or heavy cabinets over it. Also, if you want to change the location of the cabinets in the future, you can easily do it because the kitchen cabinets will not leave any footprints on the floor.
This is the main advantage of the glue-down floor installation over the click-lock floor installation.
Final Verdict On Putting Kitchen Cabinets On Top Of Vinyl Plank Flooring
The answer depends on the type of installation you have done. This means if you have a glue-down installation, you can easily put kitchen cabinets on top of vinyl plank flooring, but if you have done click-lock installation, then you can't put it.
If you have any doubt, which will go first, flooring or cabinets, then you can read our article here (Does Flooring Go Under Kitchen Cabinets?)
Although you can put sofas or any light cabinets on click-lock installation, there is no restriction but don't put any heavy cabinetry or appliances.
Both the installation have their own merits and demerits, so no one is bad for you. It depends on your choice, which floor you want to install.
Here, I have listed some of the questions that people may ask or if you have any questions, then you can comment below.
You May Also Like
FAQ's
Can You Put A Refrigerator On Top Of Vinyl Plank Flooring?

Yes, you can put a refrigerator on top of vinyl plank flooring. Because a single plank can loads up to 500 pounds, and if you add them all, then it can load up more.
You can put any home appliances over it. No home appliance can damage the floor unless you are putting more than 500 pounds of weight.

What Should You Not Use On Vinyl Plank Flooring?

You should not use any highly abrasive cleaners or acids or any steel wool while cleaning the surface.
If you want to clean the floor, then you can always dry clean it or you can use apple cider vinegar to remove any stains or grease.
But, do not use any detergents, paste wax, solvent-based polishes, ammonia, or any ammonia-based cleaning solutions on the vinyl plank floor because it may dull the surface or even damage or can cause cracks in the floor.

How Much Weight Can You Put On Vinyl Plank Flooring?

The maximum weight can a sheet or plank of vinyl plank load is 500 pounds or 226.796 kgs. But, if you add all the planks, then it may load up to thousands of kgs.
They are usually very strong when you join all the planks. Whether you are doing click-lock or glue-down installation, it can load all of your home appliances or heavy furniture or pianos. 

How Soon Can You Walk On Click Lock Vinyl Plank Flooring?

There is no limit to walk on the click-lock vinyl plank flooring. You can walk all day and night, it won't affect your flooring.
In the click-lock installation, you can walk immediately after the installation, but in glue-down installation, you have to wait for at least 48 hours to completely set the floor before walking.