Murphy oil soap comes from the Murphy family, who started the company back in 1890. After marketing for several years, they sold to Colgate-Palmolive in 1991.
They are known for using natural ingredients for making their product and hence, best for cleaning wooden furniture and cabinets.
Kitchen cabinets are prone to fingerprints, scratches, and greasy substances, so we have to clean them frequently to avoid such things and also, don't forget to use a natural cleaner to avoid discoloration.
If you ask me, is murphy oil soap good for kitchen cabinets? 
I would say yes, murphy oil soap is a great product for cleaning the kitchen cabinets primarily the sticky and greasy junk. This is a product you can count on, and it will do the job every single time consistently. Because it's made of natural ingredients, there will be no discoloration and no burning of hands. 
Cleaning The Cabinets (Items Required And Process)
There are two products available for cleaning, one is murphy oil soap regular and the other is a murphy oil soap wood cleaner sprayer.
You can use your desired product, but here in this article, I will discuss the regular one as it is available in most homes. 
You can repeat the process with the sprayer one but skip only the dilution part. The sprayer one is a ready-to-use product and doesn't require dilution and rinsing. You spray it on, and you do the cleaning.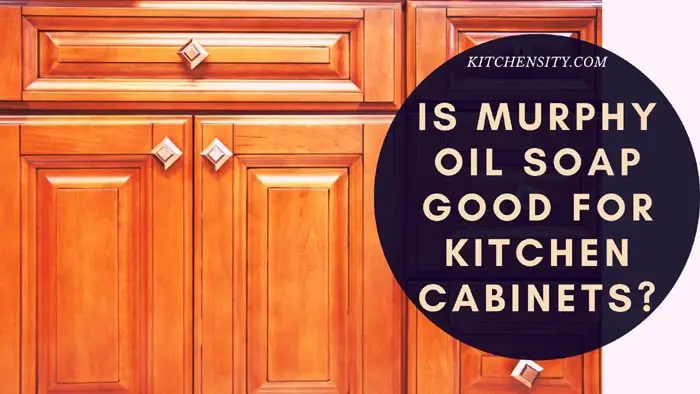 Materials Required
Bowl or Bucket
Deep Cleaning Brushes (If not available then use a toothbrush)
These are some items that will be required for cleaning the wooden kitchen cabinets. Now, let's go and start cleaning.
How To Clean Wooden Kitchen Cabinets Using Murphy's Oil Soap? (Step By Step Process)
Murphy Oil Soap regular one is a concentrated liquid, so you have to make dilute with water. I am making a solution with water to clean more than 60 panels. So, if you have fewer panels then lowered the quantity.
Step 1: First, take 1/4th cup of the oil soap and mix it with a gallon of warm water. Properly mix it in a bowl. Check it first on a corner for any discoloration, if it turns dark color then you can't use it.
Step 2: Next, remove all the knobs, handles, and dust off the cabinets with a duster before cleaning with the solution. Put the knobs and handles in a small container with 2-3 drops of dishwashing soap and let them soak for some time. 
Step 3: Now, take the soft sponge and dip in the solution and properly squeeze it to use a minimum amount of water to clean the cabinets.
Step 4: Now, try to clean the cabinets along with the grain of the wood. This will help you to clean them perfectly. Don't scrub too hard or apply pressure, just do it gently. Our main goal is to clean as much as dirt we possibly can.
Step 5: Once you have cleaned the cabinet, now it's time to clean the nooks and crannies. So, take the deep cleaning brushes and try to clean all the stuff that doesn't come off in the first place.
Step 6: Clean all the edges, the rims, and all the indentations where you can see the junk has stuck with the help of these brushes.
Step 7: Now, open the doors and clean around the edges where the door seal. You will see the dirt drip down there. So, clean them properly with the help of a sponge and brushes.
Step 8: After cleaning the cabinets completely, now it's time to put back the knobs and handles. So, take out the knobs, handles from the solution and rub them with a towel, and put them back on the cabinets.
Step 9: Finally, take a dry towel or terry cloth and wipe all the panels, edges, and all the areas properly to get a polished look. Because, Murphy oil soap has oil in it, so as it cleans it's also polishing.
Now, you have a nice and clean kitchen cabinet just like before.
Note: If you have the Murphy oil sprayer, then you will need to spray on the cabinets directly and gently rub it with a sponge. This will give almost the same results as the above case.
FAQ's
Does Murphy's Oil Soap Get Grease Off Cabinets?
Yes, Murphy oil soap is great for removing any grease from the cabinets. It will remove all the impurities, dirt, and you will get clean and glazing cabinets. 
Does Murphy Oil Soap Have Wax In It?
No, it doesn't have any wax. Murphy oil soal is made of 98% natural ingredients and according to them, they use Water, Sodium Tallate, Fragrance, TrisodiumMGDA, Lauramidopropyldimethylamine.  
Does Murphy's Oil Soap Leave A Residue?
If you dilute the liquid properly then it will not leave any residue. I have already discussed the dilution process, so do it like that, and you will not be left with residue. But, if you see any residue left after using Murphy oil soap, it's likely that another cleaner was previously used.
Does Murphy's Oil Soap Need To Be Rinsed?
Murphy oil soap doesn't require to be rinsed. After cleaning the cabinets with a soft sponge, you just need to wipe them with a dry terry cloth or towel. 
Can You Mix Vinegar And Murphy's Oil Soap?
Yes, you can mix it with vinegar but you have to maintain a proportion. If you take a bucket of water then add ½ cup of vinegar in it and a few drops of Murphy oil soap mixed with warm water. This solution is best used for cleaning the floors and for cabinets whatever I have mentioned follow that only and you will get a better result.
You May Also Like
Final Verdict On Murphy Oil Soap – Good Or Bad For Kitchen Cabinets
My go-to product for cleaning the kitchen cabinets is always the murphy oil soap. Because the result that I get after cleaning is always amazing plus it leaves no residue or any bad smell.
It doesn't contain any harmful chemicals nor causes any hazards. It is made of 98% natural ingredients and if somehow it gets into your eyes or you swallow it, just splash some water or drink water to make it dilute.
So, Murphy oil soap is great for kitchen cabinets and I highly recommend using it.