Cast iron skillet is always a good choice for gifting to cast iron cookware lovers. You can make a gift basket full of items along with the skillet.
If your friend or neighbor or the person you are gifting loves cooking, then this gift basket becomes an ideal choice for them.
There are so many things that you can add to the gift basket to make it look beautiful. You can add accessories or kitchen utensils or any items that are related to cast iron.
So, let's see what things we can add to make a complete cast iron skillet gift basket.
Ideas For Making A Cast Iron Skillet Gift Basket
Here, I will share some of the ideas to make a complete basket. You can choose your desired one for gifting. I will arrange the ideas that I like the most to the top and least to the bottom.
You are always welcome to customize your gift. We are here to help you to make a choice.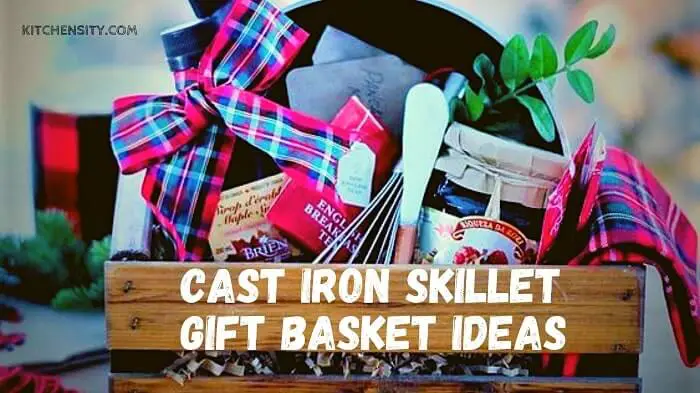 Idea 1: Make A Basket With Skillet Cleaners And Seasoning Sprayer
In this gift basket, along with the skillet, you can add the cast iron cleaner and the seasoning sprayer. This will be a very helpful gift as it contains the necessary items that will be needed after using the cast iron skillet.
Cleaning and seasoning a cast iron skillet frequently is very much necessary, otherwise, food will get stuck to it. You can make the gift more useful by adding an instruction manual to maintain the cookware.
This gift basket is very cost-effective as well as very helpful and it will leave a very positive impact on the person to whom you are gifting.
Here are some of the items that I use personally and you can purchase to gift others.
Idea 2: Make A Basket By Adding A Complete Cookware Set
The second idea is to make a complete cookware set of cast iron. You can add a dutch oven, grill pan, utensils, etc along with the skillet to make it more appealing. Though this idea will be a little expensive, your friend or colleague will be thrilled and you will be appreciated for a lifetime.
I am not recommending this gift for compliment or bragging. This gift basket will definitely help the person to whom you are gifting as it will contain all the necessary items needed for making delicious items.
If you want, you can check these items below.
Utensils 
Idea 3: Make A Basket Of Cast Iron Skillet And The Utensils
In this gift basket, you can add the necessary utensils that will help the person while cooking. For instance, you can add this stainless steel cooking utensil from Glad that contains all the necessary items required while cooking.
If you don't want to gift stainless steel utensils, in that case, you add this set of wooden utensils which will keep the cookware safe as well as help in cooking.
The things that I recommend are given below.
There are so many things that you can add with a cast iron skillet to make a gift basket. The ideas that I have recommended here are customizable. You can mix the ideas to get a new gift set.
Other than gifting these items, you can also add some food items along with the skillet. You can add honey, frozen food items, jam, wine bottles, etc, or whatever may be the other person likes. 
Some people will gift perfume or any other thing that doesn't match with the main product skillet. Don't do that, always gift items that are matching, or one item should help the other item.
For now, I have added these ideas but later I will add more and more. So, please visit the site from time to time, or bookmark the site for quick actions.
You May Also Like